---
Latest Goings On July 2019:
Photos by Steve Lovett

Just a some quick photos to show the progress made in past couple of weeks: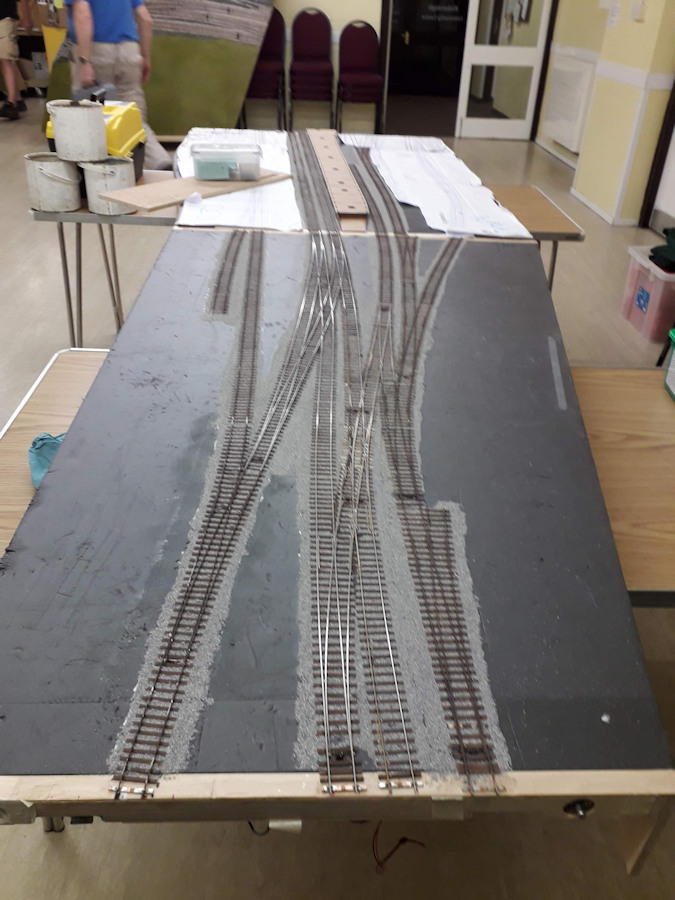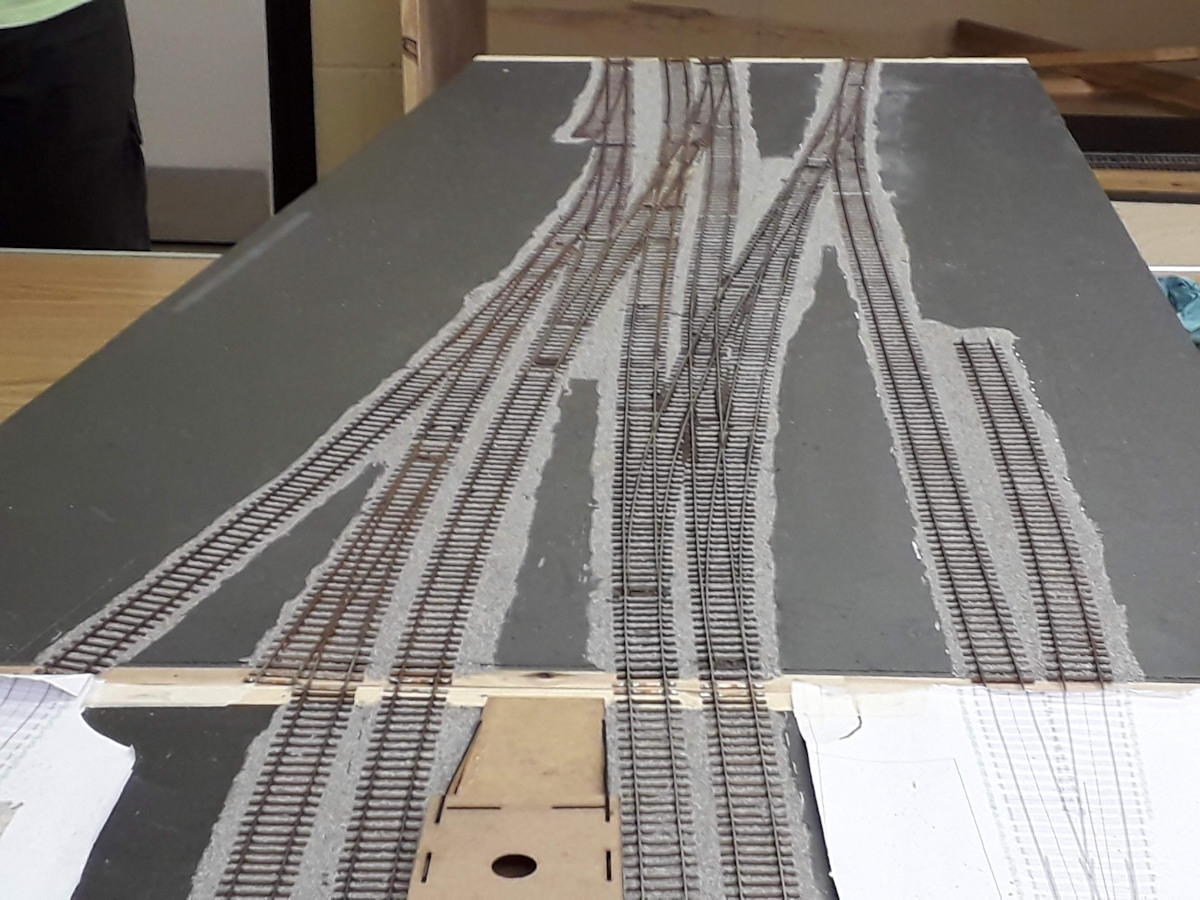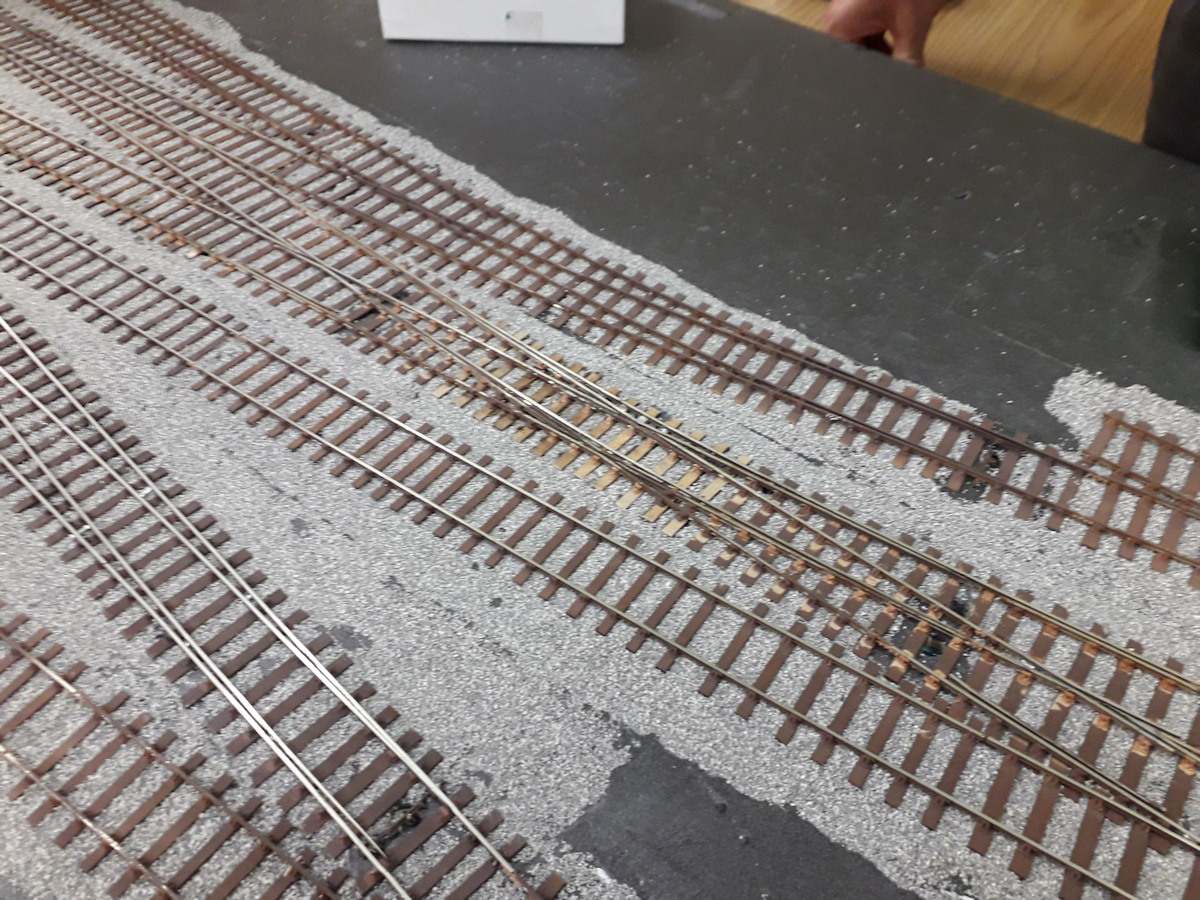 A special mention must go to Chris, recognising extreme perseverance through some very trying moments, for having laid in-situ the correctly handed single slip. This was not any easy task but the end result clearly demonstrates the attention to detail. It's also pleasing to see the additional of laid track for the Risboro' branch as well as that forming part of the Met Bays.

What the photos do not show is the work done below the boards, often with Tony laying underneath whilst others worked above!

What's next? Friday 26th July 2019
The immediate challenge is to detail the slip (cosmetic chairs, painting etc), fit point motors and feed wires to the newly laid track and take stock of what's remaining to be laid (what we've got built against what's not).
We will also take the opportunity to fit support runners (I'll bring along what I've made up) in the larger of the 2 storage boxes. This is essential as the fragility of the baseboards (or more importantly what's on or underneath them) is becoming concerning; after all we don't want to undo all the good work that's been done to date.
What's next? Friday 9th / Saturday 10th August 2019
Fit support runners to the smaller of the 2 storage boxes.
If we feel it appropriate we may wish to consider erecting all scenic boards allowing us to work at 'operating height' using the boxes / trestles. This would facilitate further track laying and potentially giving some thought to scenic modelling first steps. However as there is much to do 'below boards' maybe this is premature(?)
Latest Goings On June 2019:
Photos by Steve Lovett

It's been some time since an update so here we go.............. Recent months has seen the following:
Storage Box Swap - the fiddleyard boards have been put into storage as have a number of the curved boards; the scenic board storage boxes have been retrieved from Gary's garage (thanks chap) and are now in use in the club storeroom
Electrics - The Loconet has been fully installed as has the UP5 Loconet Universal plug panels; track / accessory feed fitment continues to support track laying
Trackwork - The replacement of the infamous Met Bay single slip has proved character building although the stirling efforts of Chris to fit this in-situ are paying dividends; all points have now been made and in varying stages of wiring / painting and fitment; plain line sections have been made to enable the completion of track laying on the first of the scenic boards
Wagons - It was good to see a number of completed examples at Wheeltappers recently; we need a final push to complete these (a nudge to me) before considering the next tranche
Scenic / Buildings - the first of the platforms has been successfully trial fitted on the baseboards
Today at modelling Saturday.............
the hope of laying further trackwork was hampered somewhat by the usual double sided tape stickiness resulting in a number of dislodged sleepers
fabricating a Masokits stretcher bar also allowed the sharing of colourful language, there must be a knack to making these!
pointwork had track feed wires fitted and then trial fitted to the baseboard (see photos) which highlighted the need to move a DS64, various feed wires and a bus wire (all will be done once trackwork has been laid)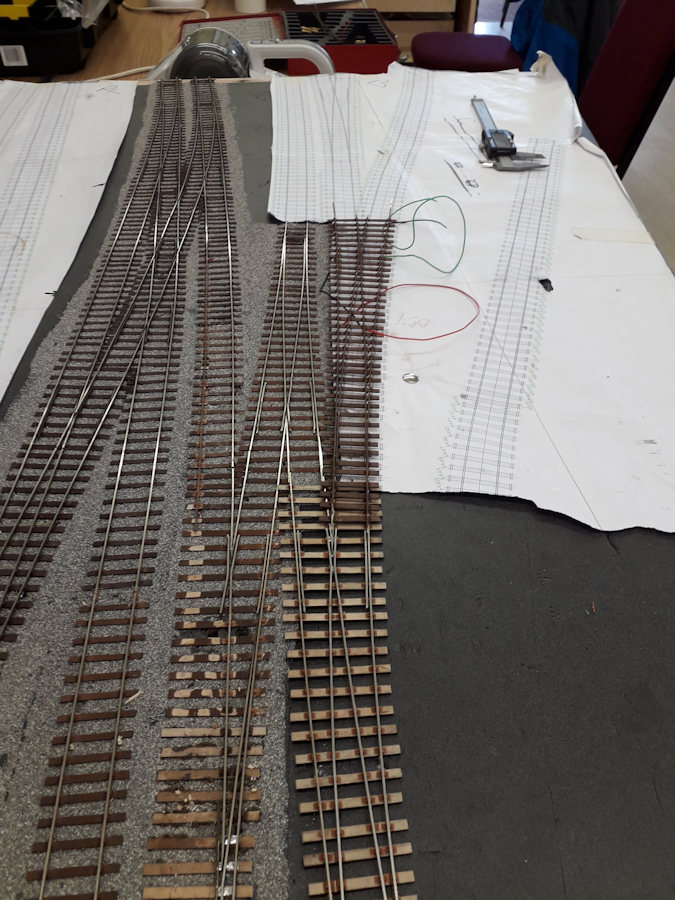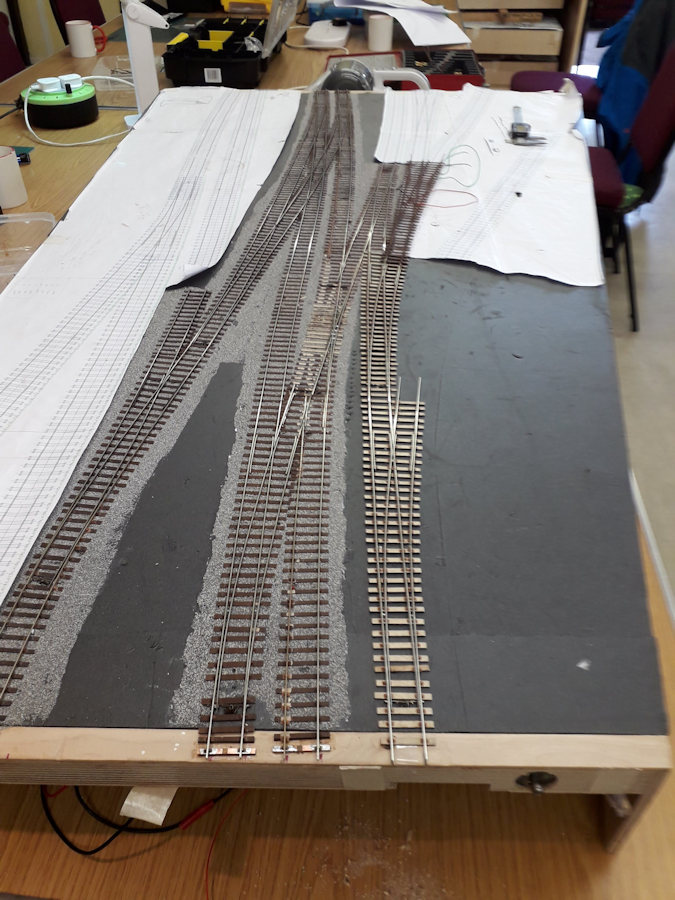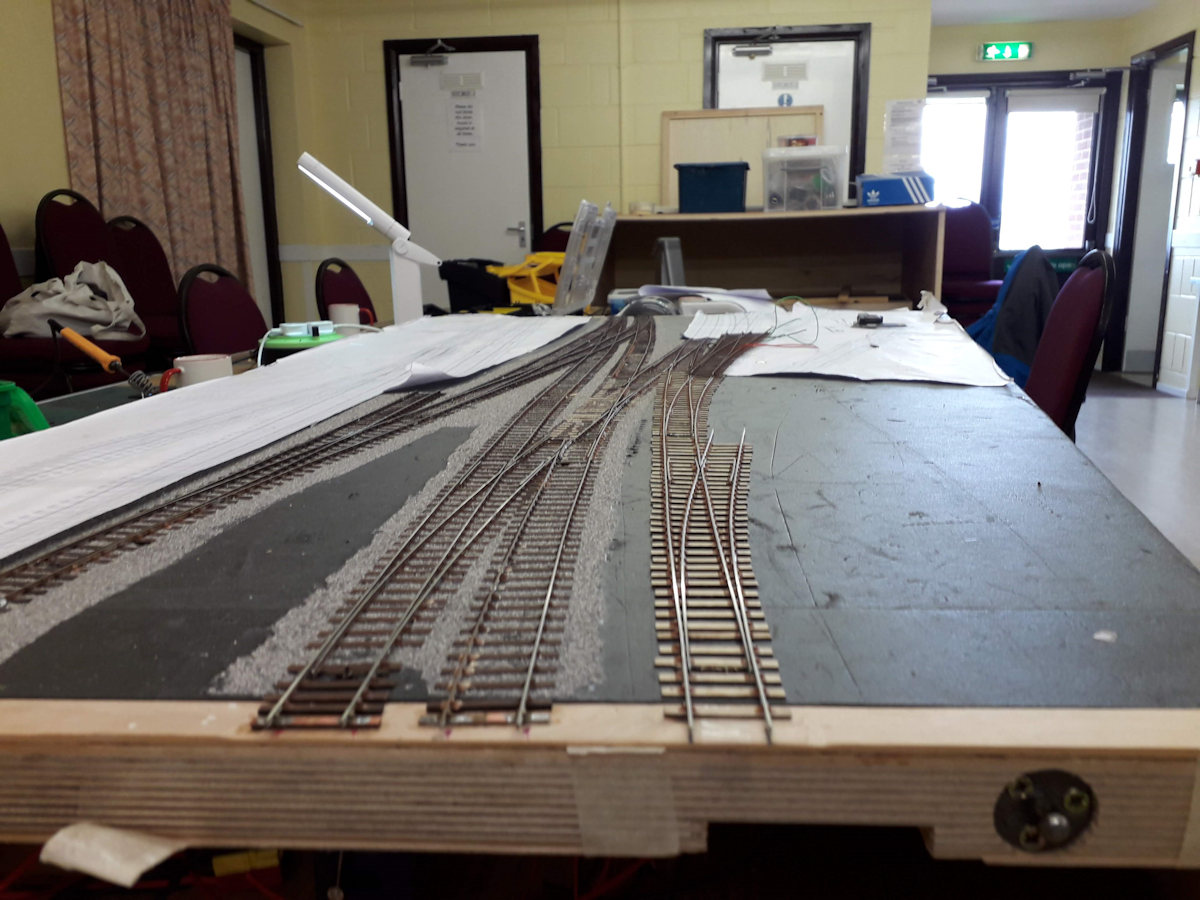 So whilst we may not have made as much progress today as we hoped we're not far from laying a substantial amount of trackwork and identified early a few snags which would have haunted us in the future.
Latest Goings On February 2019:
Photos by Steve Lovett

Much has been happening since the last update over an above the Festive and New Year periods. Activity has focused around; operational testing (including the inevitable electrical and trackwork tweaking), platform construction, wagon builds and the design of a suitable trestle solution.

It's probably best to summarise what we've achieved by reflecting the position as of close of play following last Modelling Saturday (9 Feb):

Set Up

In setting up the layout on Friday night, which at times proved challenging, the opportunity was taken to make up and fit sufficient loconet cables and trace a number of electrical issues came to light (shorts) requiring the inevitable tracing; thanks to Tim and Mick for doing this with depleted numbers. Whilst morale sapping these were eventually remedied and running commenced in gusto on Saturday.

Operational Running

Operational running allowed for the laid trackwork and subsequent wiring / DS62 programming to be fully tested; expertly managed by Chris. It was pleasing to note that:
All facing points into fiddle yard (up, down and Risboro') operated well with test locos 10000 and 5054 running cleanly through crossovers from down fiddle to up main and up fiddle to down main.
Running wrong way on the up (inner) into the fiddle at first proved troublesome for 10000 at speed, but improved with some track fettling the inner at baseboard Joint N kicked 10000's trailing bogie lead axle off most times - rectification was beyond the brief for this session and we agreed that this will be picked up when we look at undulations across all joints (and points) when a full set of designed trestles are used.
The day would have been all the more challenging if it hadn't been for Tony doing a sterling job figuring out the frog wiring on the fixed diamond on baseboard OP. The designed solution was wired and successfully tested (electrically and by running) and pleasingly meant that we didn't have to buy a 'Dual Frog Juicer' at the cost of some £30! Although testing did highlight one short stretch of rail from Risboro' to the Down line in need of power.

Late in the day we did note that the feed from the SuperChief to the track had the connections fitted the wrong way round; blue touching blue, but red plugged into black. Chris will look at re-forming them these into one way only fixings.

Whilst the layout was set up Tim was able to fit 3 out of 4 UP5 Loconet panels; these just require wiring.

Platforms

The opportunity was also taken to trial fit the recently laser cut platforms. Whilst these were only laid in place David was happy with the fit. It is recognised that these are critical to progress of next phase of tracklaying and hence this needs to dominate attention over the coming weeks.

Supporting Trestles

On the subject of trestles..... Steve provided the first stab at a simple trestle solution showing 2 potential build options. These were discussed and a way forward agreed; 2" x 1" legs with 9mm ply cross bracing; 4" gate hinges and locking stays. Trial use of this proved that at operational height the trestle was stable, allowed acceptable access to the underside of the baseboards and could be universally used on both curved and straight (fiddle yard) boards.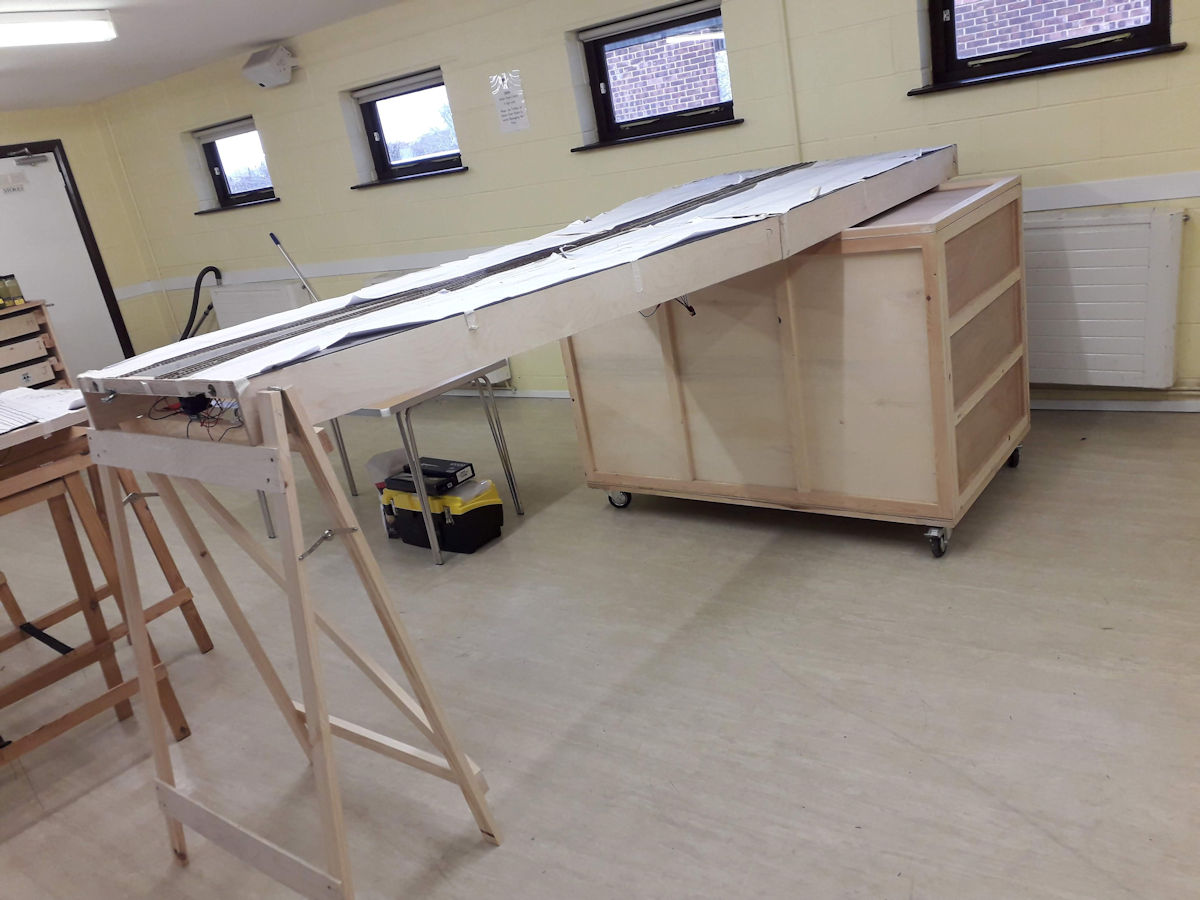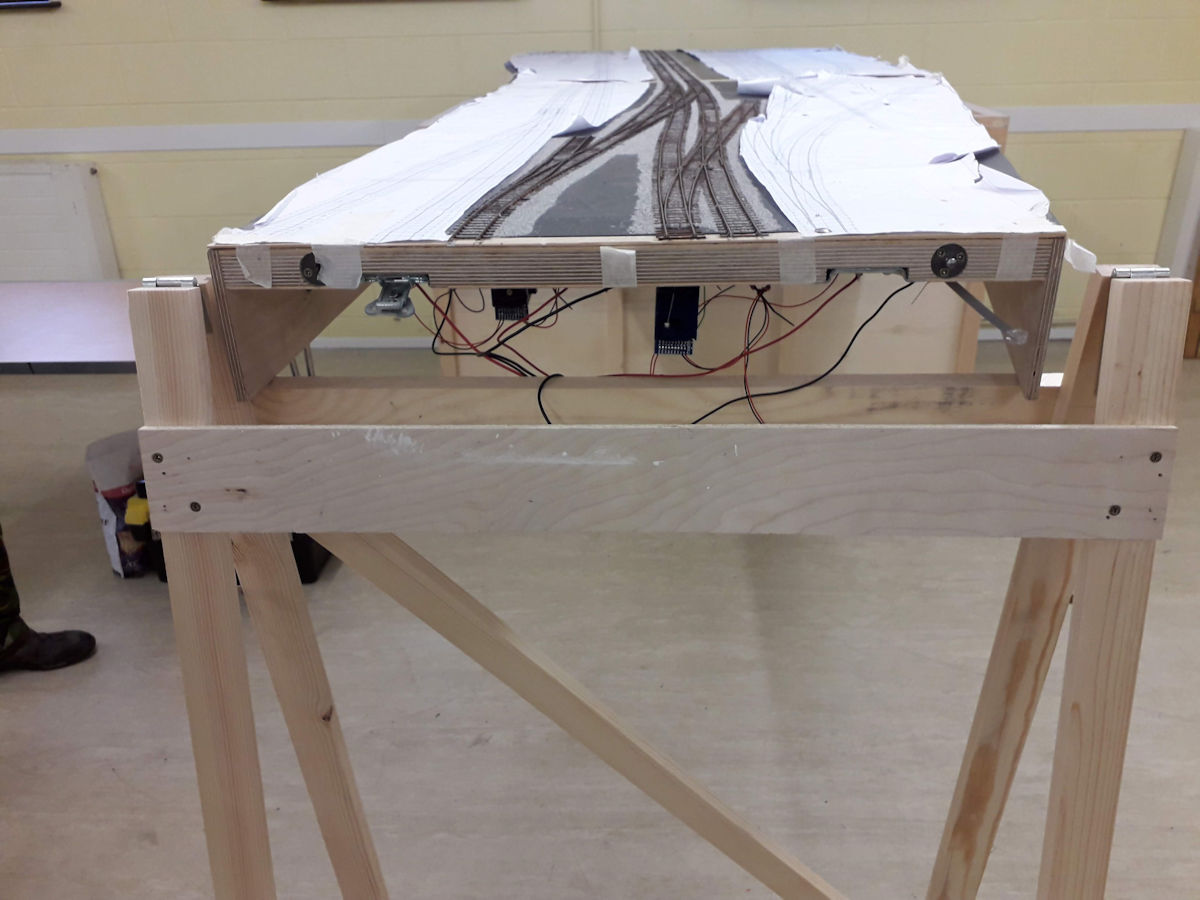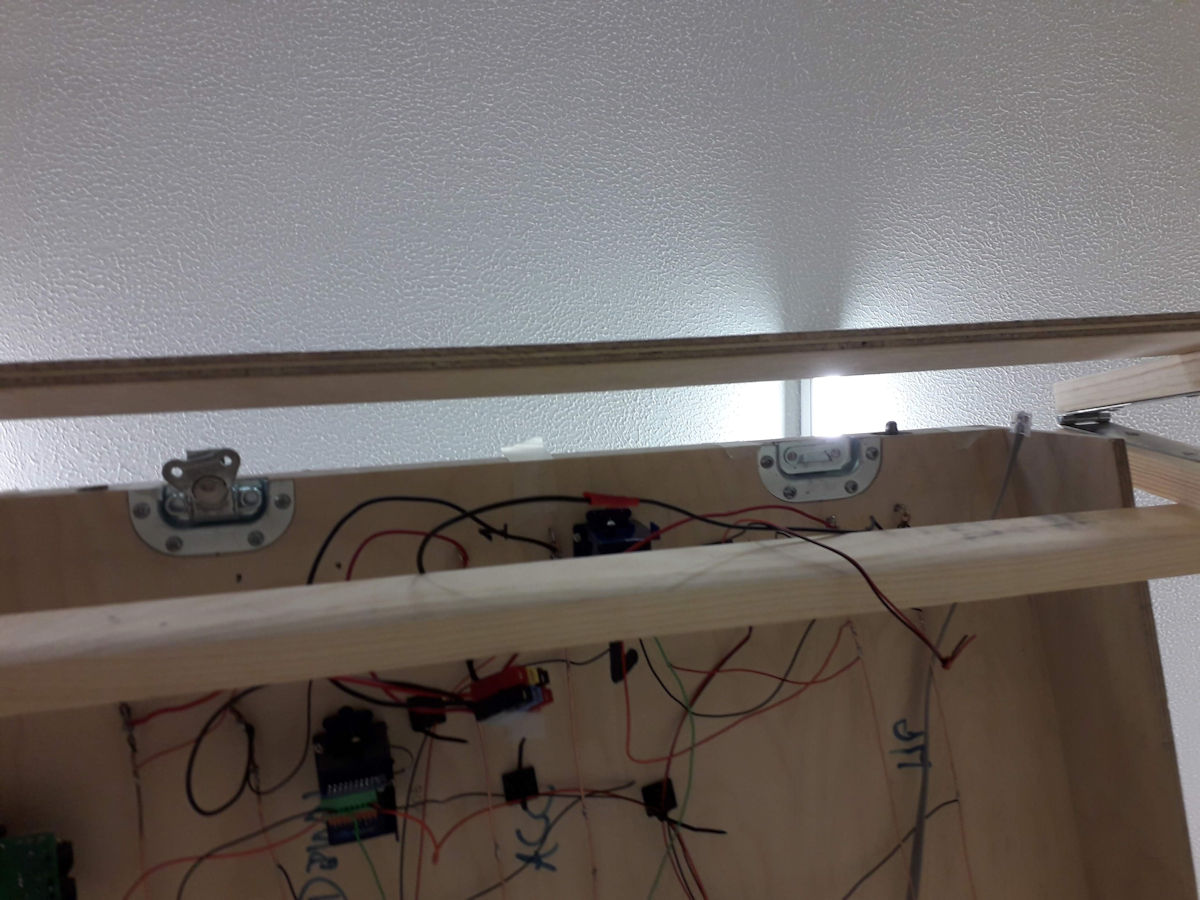 Wagon Building

Ray has been doing a fantastic job of 'herding modellers' to progress (finishing or starting?) the initial wagon build. It is clear that progress is gathering pace just by looking at the numerous emails that circulate.

So what's next?
Fiddleyard boards - Now we are happy that these are operational (albeit with the minor tweaks highlighted above) the boards can now be put into storage - Steve to liaise with Gary / Chris and Ken
Platforms - complete construction and fitment to baseboard to allow track building to continue - David
Trackwork - install replacement single slip on Risboro' branch - Tim / Steve; start building plain line - All
Electrical - address the track feed issue on baseboard OP (as above); continue wiring against tracklaying progress - Chris leading / Tony / All supporting
Wagons - complete first tranche build - Ray leading / All
Baseboards - Trestle build - Buy materials; pre-cut / drill items; provide items for construction at club - Steve leading
Baseboard Storage - Recover from storage scenic section storage boxes from Gary - Steve to liaise with Gary / Chris and Ken
Apologies............ turned out to be a somewhat longer summary than anticipated but that reflects the excellent work we have done in recent weeks.
Latest Goings On January 2019:
Photos by Steve Lovett

Just a quick update to reflect the work we have done over the past few weeks.

Trackwork - Jennifer is working on a replacement single slip to replace the one previously laid
Electrics - Chis has been working on scenic board NO which has been wired and DS64s programmed. Some of the point throws need adjusting, either the Cobalt action or tweaks to the tie bar/ballasting. Next step is to continue similar on scenic board AB and run the wiring out on that and PA (two cobalts).
Baseboards - Curve storage box has now had it's dividers fitted including provision of a storage shelf; handles have been added to the boards themselves to ease lifting.

Supporting Trestles - Leg options have been discussed and I'll be working up one of the potential solutions and bringing this along on the 9 February.
Buildings - Platform design and construction is progressing and initial laser cutting anticipated in coming weeks.
Wagons & Rolling Stock - It's great to see many of you working on the first batch of kits; why not bring these along to the next modelling Saturday (see below)?
Work will continue on these aspects of the layout over the next few modelling Fridays however looking forward it is hoped to erect the whole layout on the next Modelling Saturday (9 February 2019). This will enable a full running test of the baseboards and hopefully the storage of the fiddleyard boards and non-scenic curved boards.
Latest Goings On December 2018:
Photos by Steve Lovett

Just a quick update on the progress made last weekend at the Modelling Saturday on the 8th December, which hopefully builds on the comments made at the AGM.

Firstly though I am making a request for someone to lead on LINESIDE SCENERY workstream including those lineside aspects which will help to bring the layout to life e.g. vehicles, people, luggage, lineside signage etc, completion of lineside buildings (including the modelling of sheds, cabins, toolstores etc) as well as backscene design, production and fitment. (Physical Start - Spring 2019)

Jennifer had kindly volunteered to start the development of the signalling design remit which will include the development of suitable control panel(s); this will be shared with the wider group for discussion / agreement before we commit to spend / build.

Progress Made at Modelling Saturday
Remaining Cobalts fitted to those points recently laid together with associated wiring
The whole layout was set up and in all fairness went up well with only a little persuasion needed on the final joint.
Each board was tested incrementally and running was achieved on 50% of the boards using Chris's Class 24 - on occasion we were thwarted by cleanliness and the odd electrical short (traced to an uncut PCB sleeper in the fiddle yard)
The DS64s on the South scenic board were plumbed in, grouping the crossovers into the four ports; the Cobalts all throw, but will need some fettling for their action. All are currently set on the factory IDs pending our working out of an agreed scheme.
A sting in the tail - during the testing of the DS64s it was pointed out that the single slip which crosses the Up line is the wrong way round meaning that there is no means of departing the Met bays for London - oops. This will need to be removed, a new unit built and then fitted.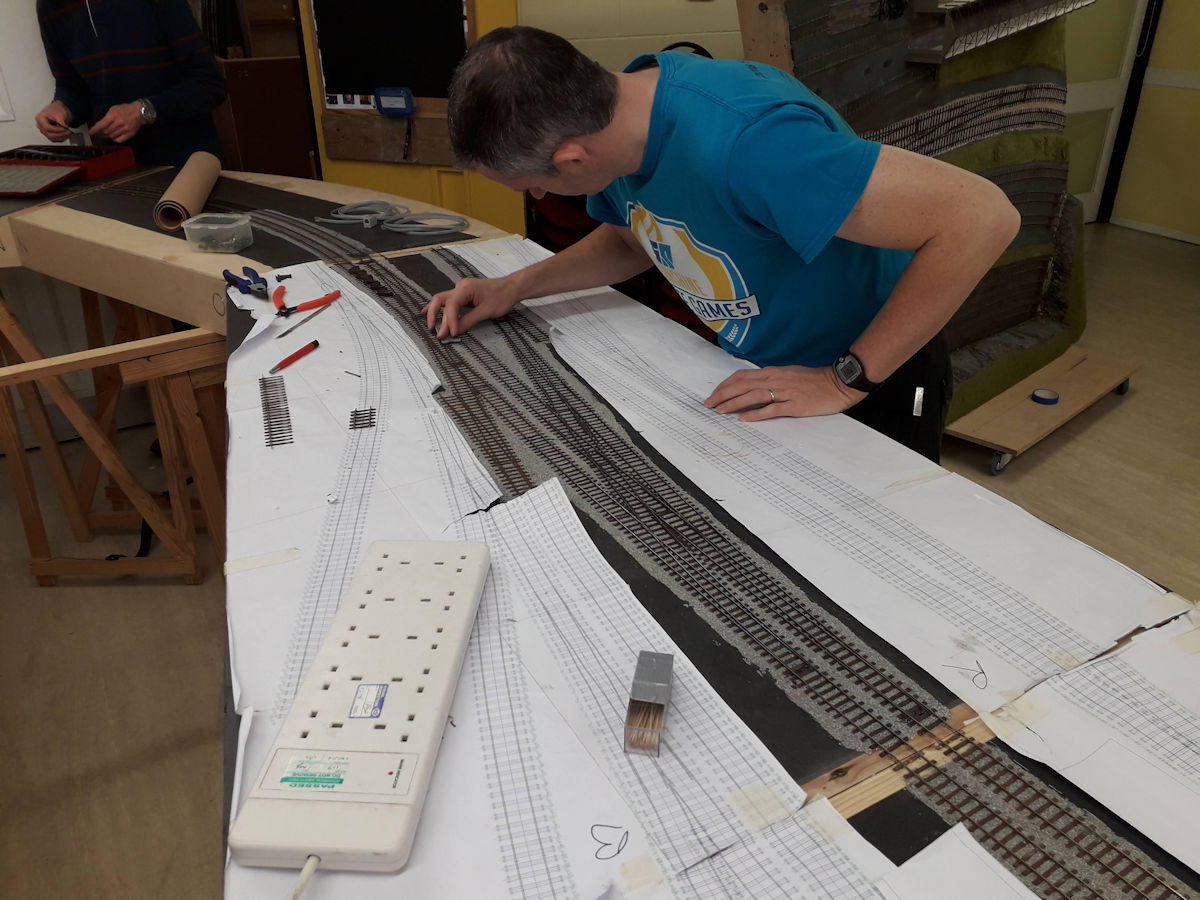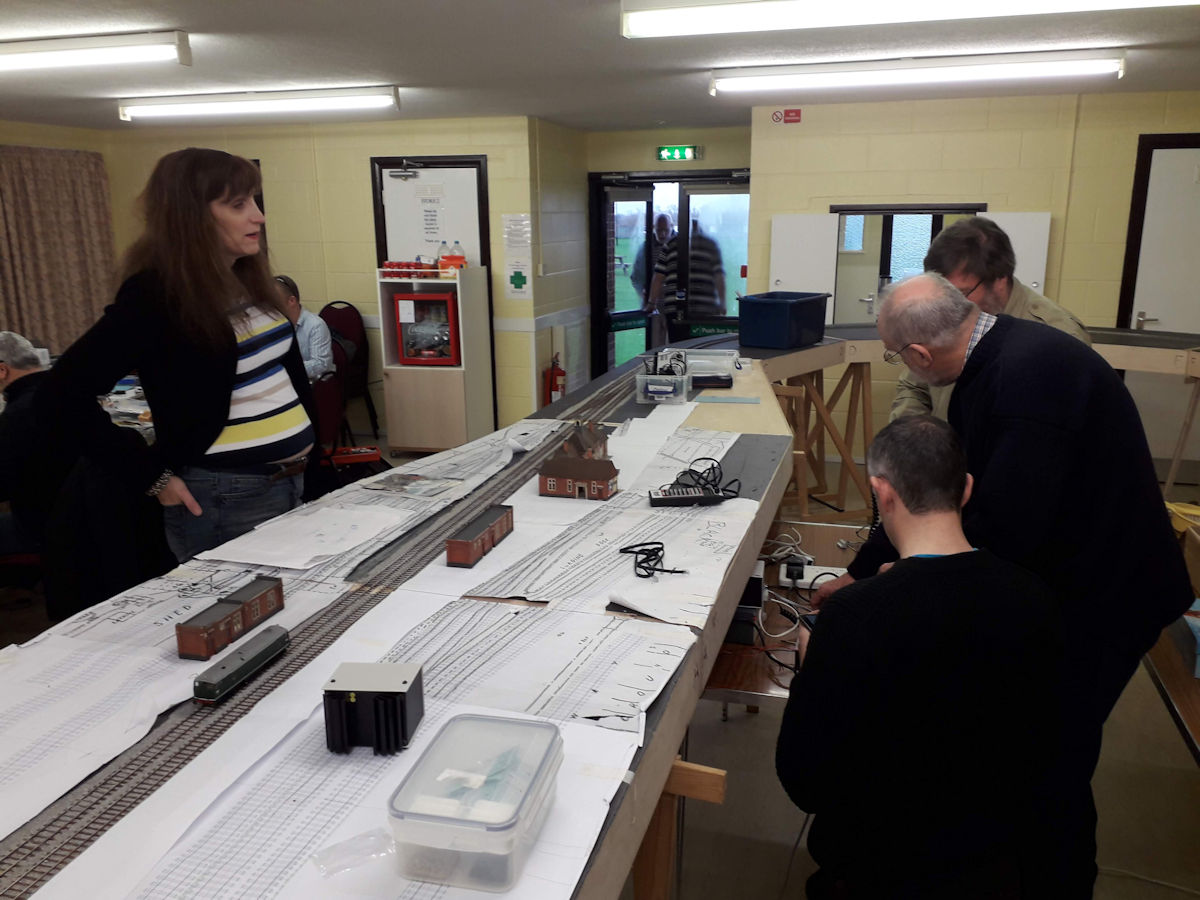 What are our Urgent priorities?

It was agreed that given a year of tracklaying, electrical testing and commissioning and subsequent fettling a break, albeit a short one, from these activities would be welcomed. This will allow for those longstanding odd jobs to be done including:
Completing the baseboard construction; remaining ironmongery, end protectors, curved board storage box dividers,supporting trestle legs (as reliance on the use of the test track legs again proved this weekend that the layout is vulnerable when being worked on / set up / taken down) and an improved storage solution (Winter 2018 / Spring 2019)
Mothball as many of the non-scenic boards as practicable once these have been fully cleaned, tested and commissioned (Winter 2018 / Spring 2019)
Platform Construction - scenic board trackwork will only be progressed once all platforms have been constructed and correctly positioned; it's easier to gauge track position from the platform rather than trying to make the platform fit between laid track (Winter 2018 / Spring 2019)
Make up sufficient loconet cables for the whole layout (Winter 2018 / Spring 2019)
Lesser priorities?
There's plenty of additional plain line to be built, point laying and of course fettling, cleaning and fine adjustment.(Summer / Autumn 2019)
All of this comes with the continued electrical installation and commissioning. (Summer / Autumn 2019 for track; Spring 2020 for lineside)
Lineside Scenery (as described above) - (Spring 2019 onwards).
We haven't even thought about what will be required for any exhibition mobilisation; operator familiarity with set up / take down, lighting design and manufacture, operability, rolling stock management as well as operator availability and transport logisitics.

Not to mention the need to agree our chosen timetable, train consists (identify type of trains to be run and their locomotive, coach and wagon consists) etc etc

So it would appear that we could be in for another busy year……….. I'd welcome your comments/volunteering.

Have a great Christmas and New Year
Latest Goings On October 2018:
Photos by Steve Lovett

Recent months has seen continued progress with:

Scenic section tracklaying
Fiddleyard boards - fettling and cleaning
Wagon Construction - allocation of initial wagon batch and start of building
Building and scenery - continued progress with station buildings etc
Not to mention displaying the layout at the FestiRail event in July - was it really that long ago?

Over this weekend we made more progress:
Fiddleyard Board JK (London/Risborough end) - Fettling now complete, gave a tweak to point 358 switch blade toes, and straightening one buckled flexi length in the down yard; pinch points were eased, stock rails replaced, flangeways checked, some EM flexi replaced(!) and electrics tested ok for function.
Scenic Board OP - Continued tracklaying with the successful installation of the 'Risborough Branch' point end; this proved somewhat challenging needing some tweaking, fettling and adjustment; the end result though was pleasing.
Next up:
Fiddleyard Boards FG/GH (North throat) - which will get the same treatment as Board JK
Scenic Board OP - Installation of the remaining crossover units; once done this will complete all trackwork on the main Up / Down running lines.
Electrics - Complete wiring of all scenic section point ends including their DCC programming
Buildings - Platforms - VERY IMPORTANT - before continuing with tracklaying on the scenic boards we need to construct the main platforms as it will from the platform edge we gauge off of rather than trying to make the platform fit between laid track.
Signals - now the winter nights are coming it'll be back to the construction of the signal population
Wagons - progress the first batch
Baseboards - we need to 'section' the curved baseboard storage box to protect boards from each other; consider obtaining the larger of the scenic section storage box as these boards are becoming more vulnerable as track and electrics are installed (this inevitably poses the question of space in the clubroom storage room); not to mention trestle supporting legs
We have also considered making the next Modelling Saturday (17 November) a full running session although this will be dependant on completing the tracklaying for the main loops and electrical jiggery pokery.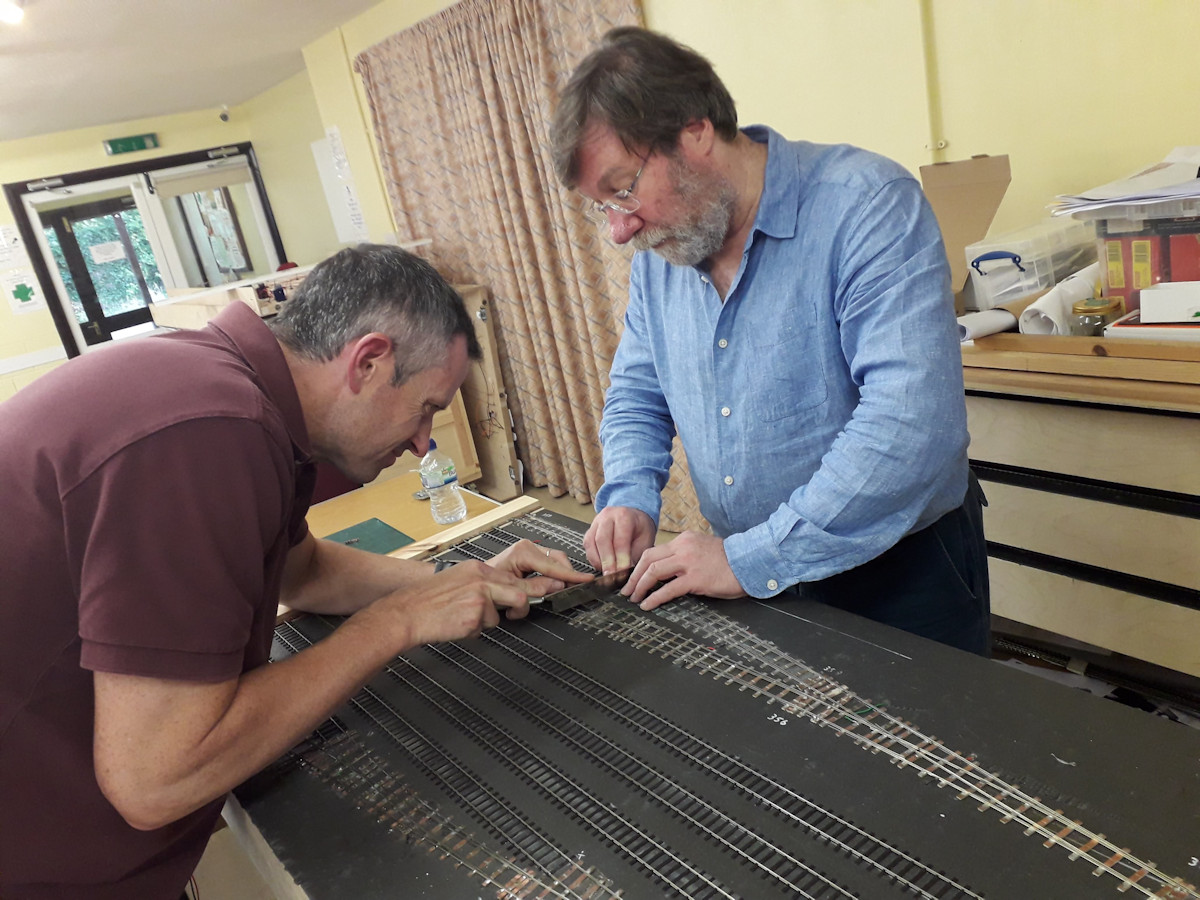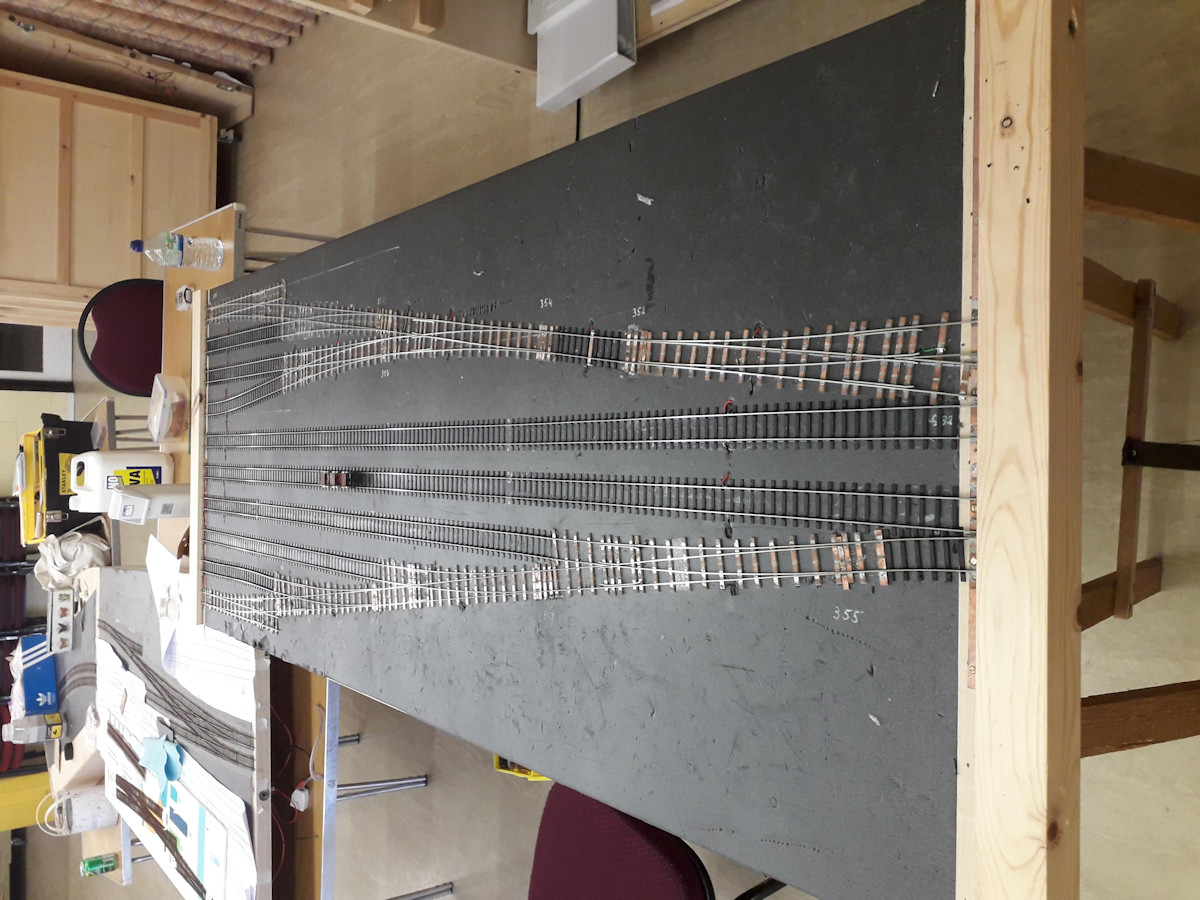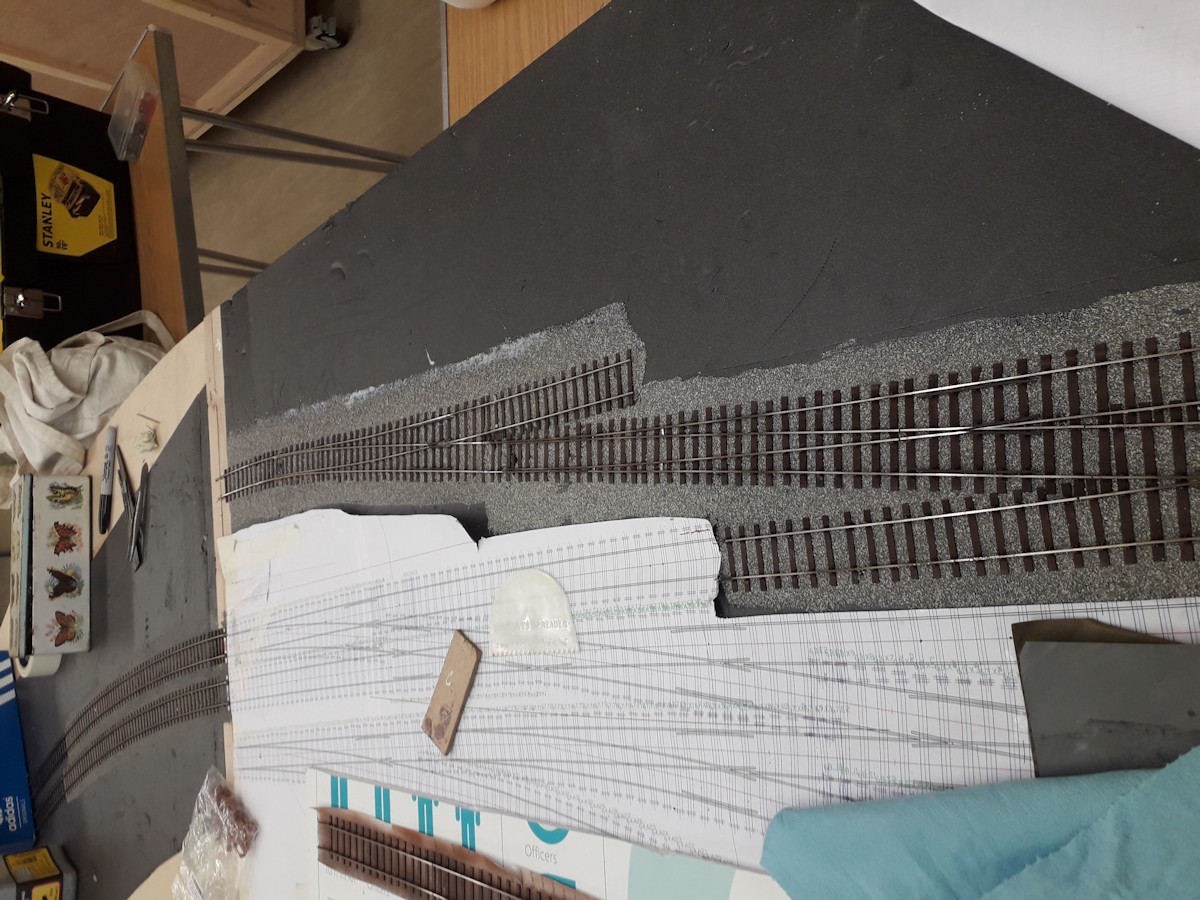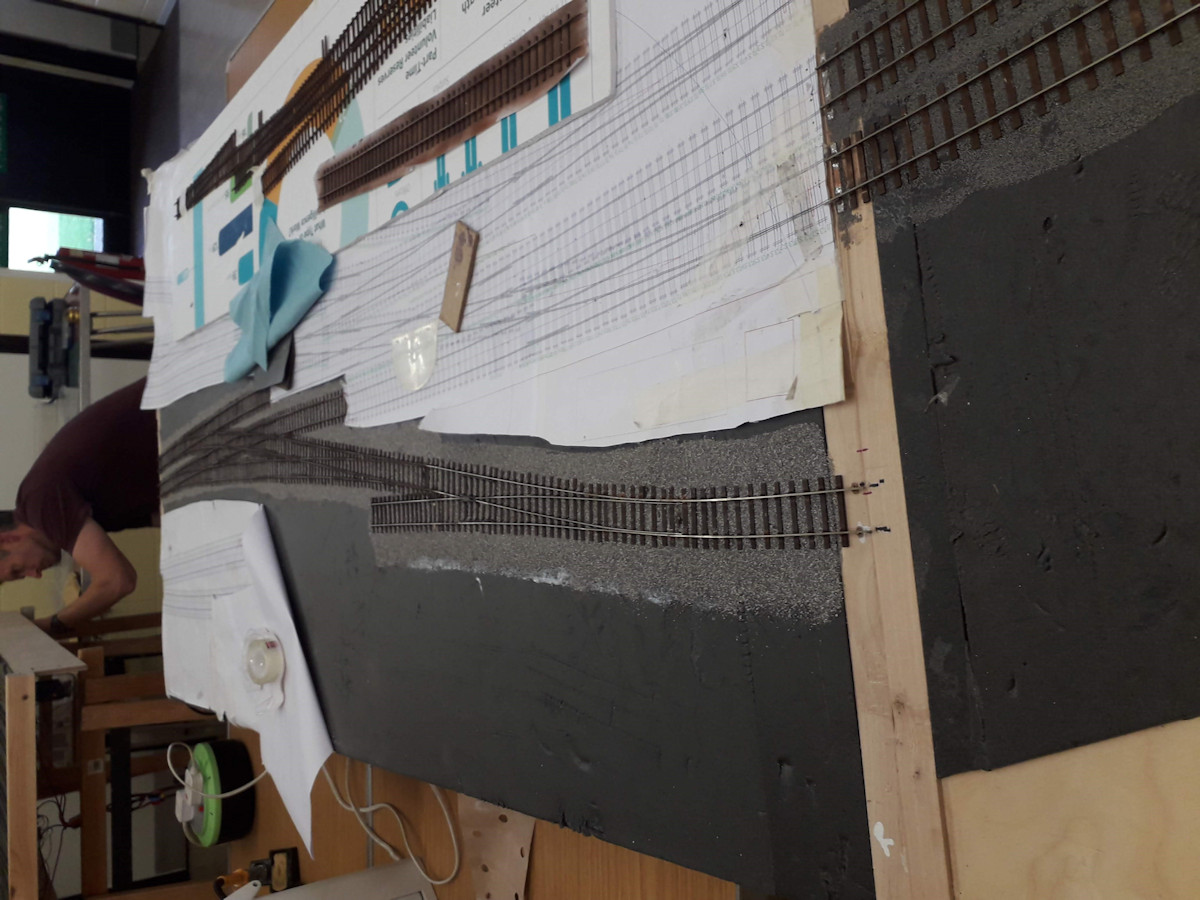 Latest Goings On July 2018:
Photo by Anthony Mead

A photo taken at FestiRail on the 7th July, this shows that progress to the hand built track which is ballasted when it is laid down, along with scale plans where the rest of the track will go.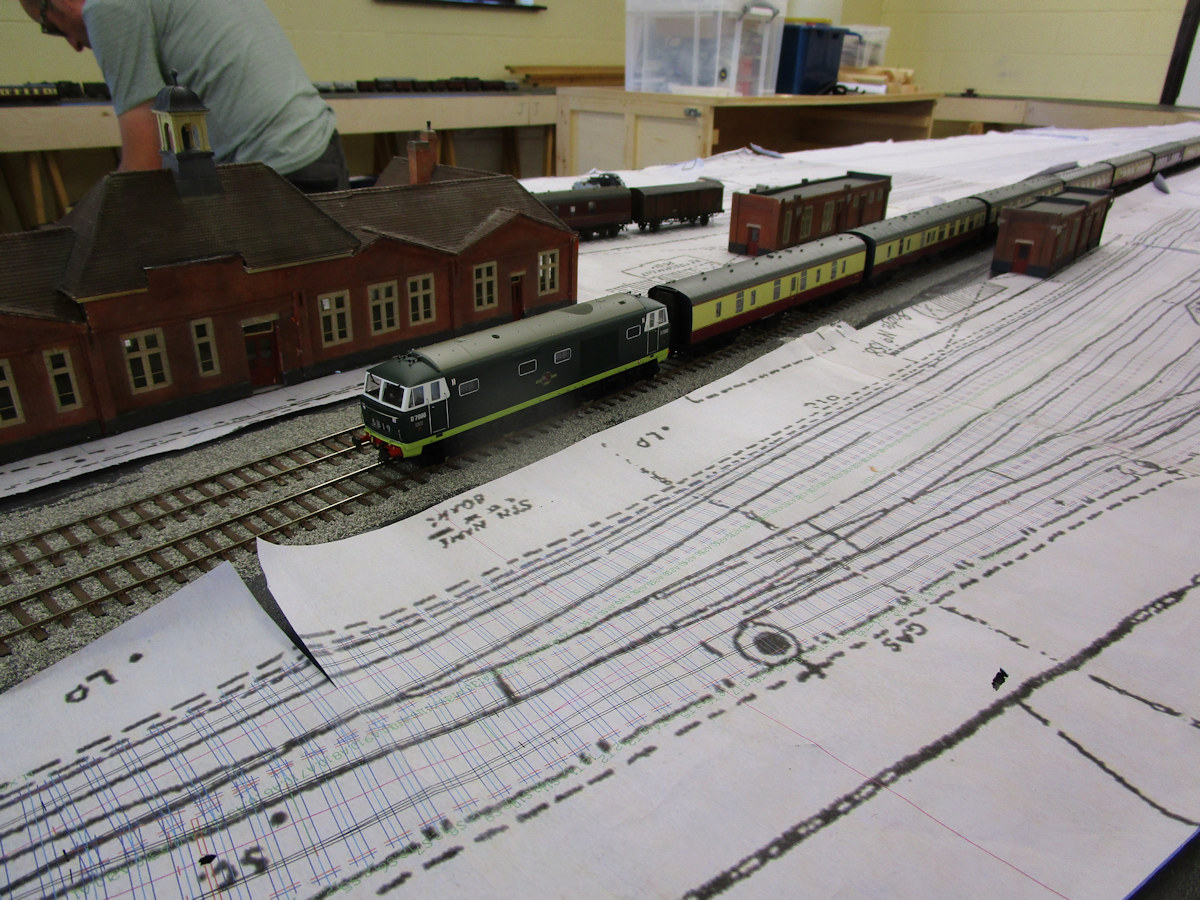 Latest Goings On June 2018:
Video by Graham Bucknell

A video clip of Graham's train, the rolling stock is a mix of Bachmann, Accurascale & Oxford Rail RTR wagons fitted with Gibson or Wizard P4 wheel and Smiths couplings. A bit of weathering and jobs sorted. Traction is a Heljan Class 35 Hymek fitted with Ultrascale wheels, filmed at the Modelling Saturday on the 30th June.
Latest Goings On April 2018:
Photos by Steve Lovett

In recent weeks we've had the opportunity for full modelling days; Good Friday and last weekends Modelling Saturday. These have proved very fruitful with good tracklaying progress being made. At close of play on Saturday we have achieved the following:
Track building of plain line and remaining pointwork for scenic board AB
Track laying the 'main line loops' on baseboards BC; AB; PA (in part) – this includes sealing the foam underlay prior to tracklaying; removal of the temporary C&L flexi-track and replacement with hand built trackwork; ballasting
Isolated ballast replenishment (a fantastic demonstration of patience and perseverance shown by Neil; thanks)
Wiring of Track Feeds on baseboard BC
Continued construction of Signals
Delivery of the initial batch of wagon kits
This hasn't always been without frustration as we have met challenges with baseboard joints, through line alignment and underestimation of those simple tasks which become little more challenging. We are still learning as we go but our confidence is growing. With our sights clearly on 'FestiRail Model Railway Exhibition' (7th July) we must be mindful of what we need to do to provide an operational layout:
Complete Track laying of the main line loops on the scenic boards (boards OP, PA, AB)
Sufficiently install electrics to achieve operability; track / accessory feeds as well as point operating motors on main line loops
Consider the replacement of coach couplings to improve running
Below laying and ballasting of the hand made track on the scenic section, this replaces the temporary laid double track for RISEX 2018, at the Modelling Saturday on the 14th April.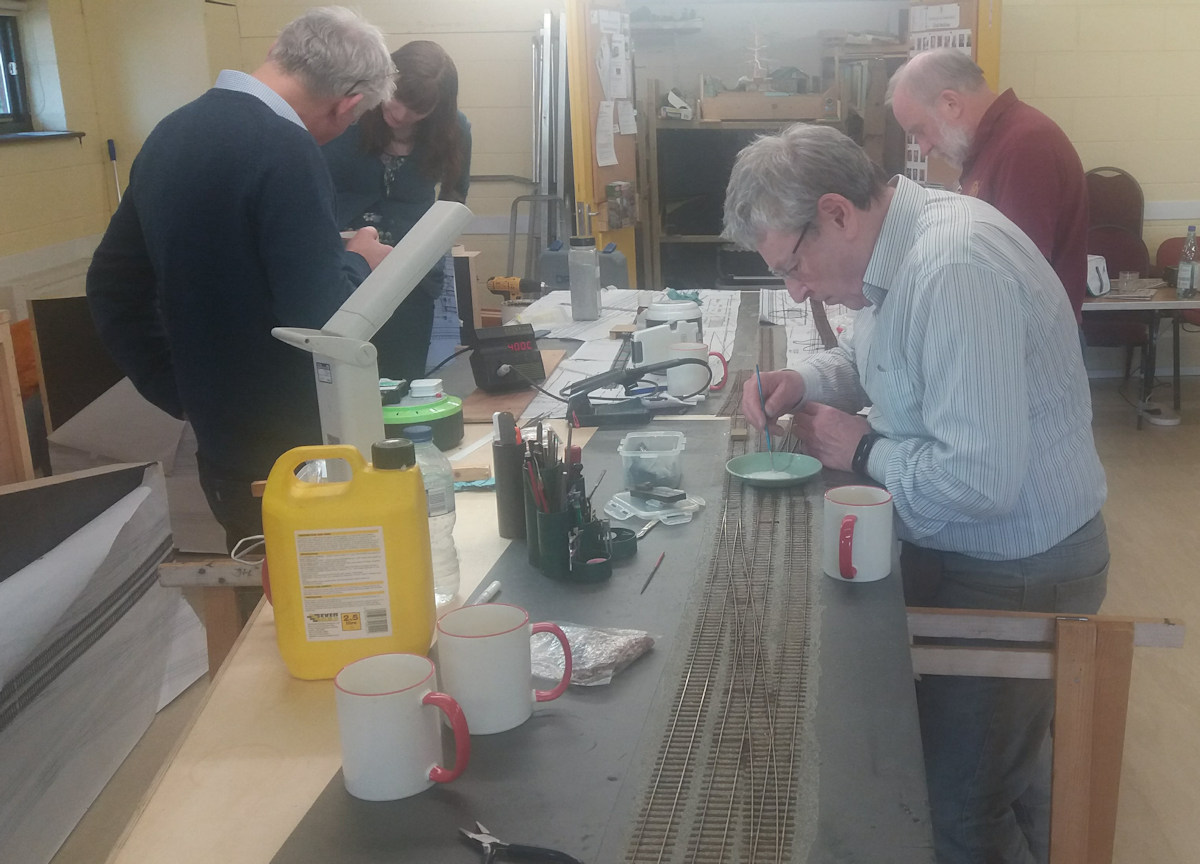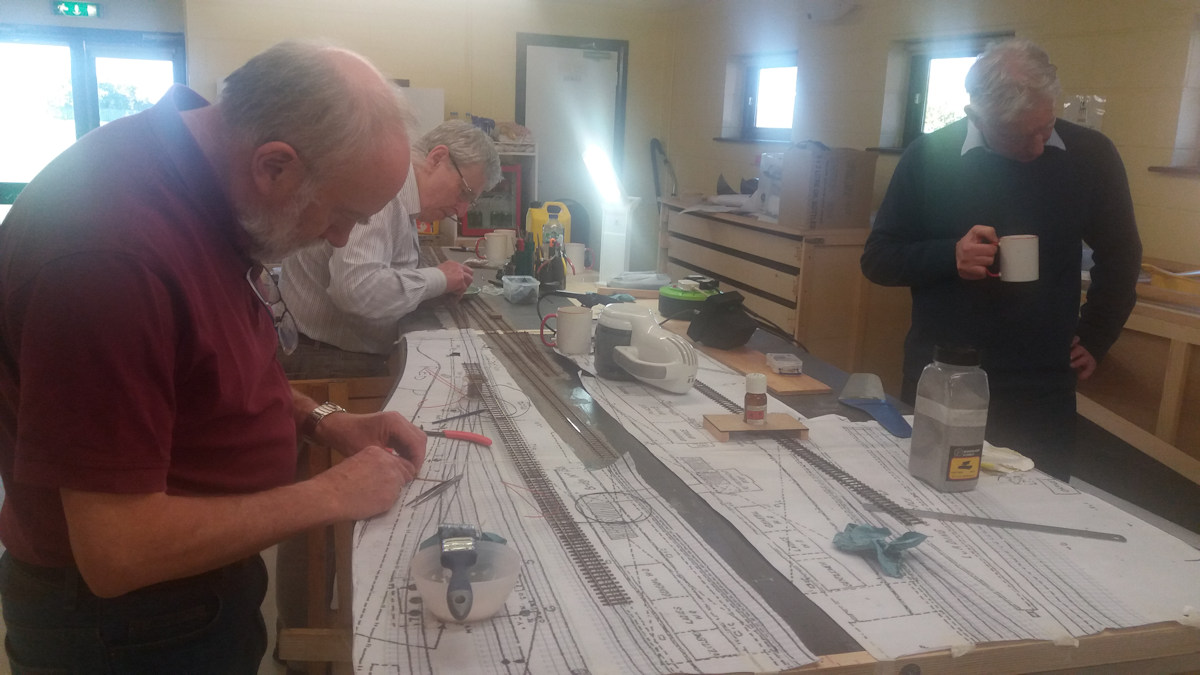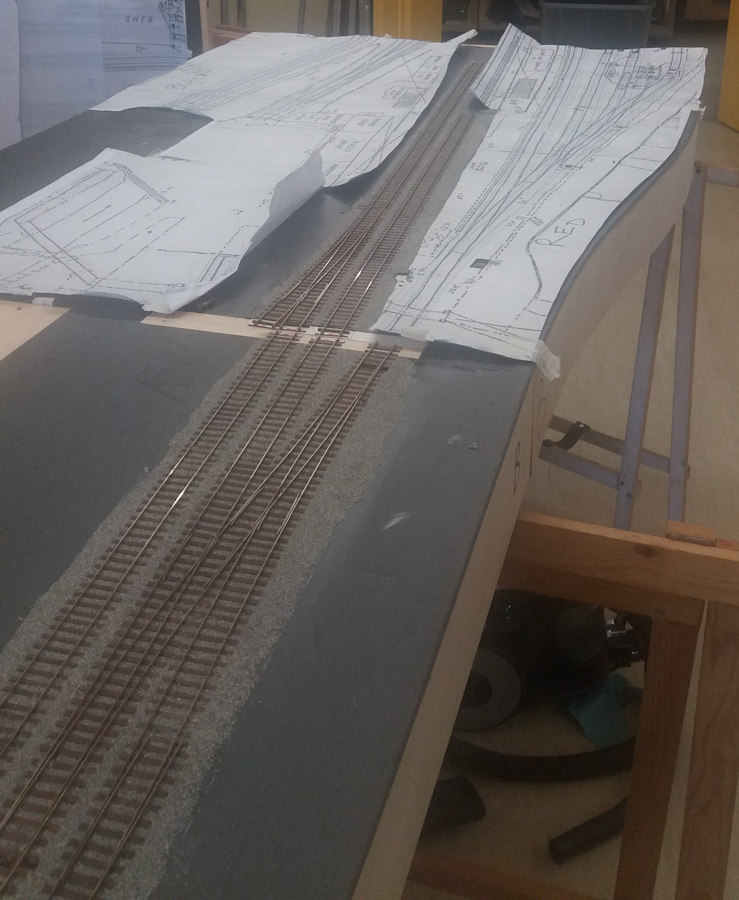 Latest Goings On March 2018:
Photo by Paul Wright

Below track laying with hand made track on the scenic at the Modelling Saturday on the 10th March, Tim holds the crossover while David and Steve guide in the dropper wires.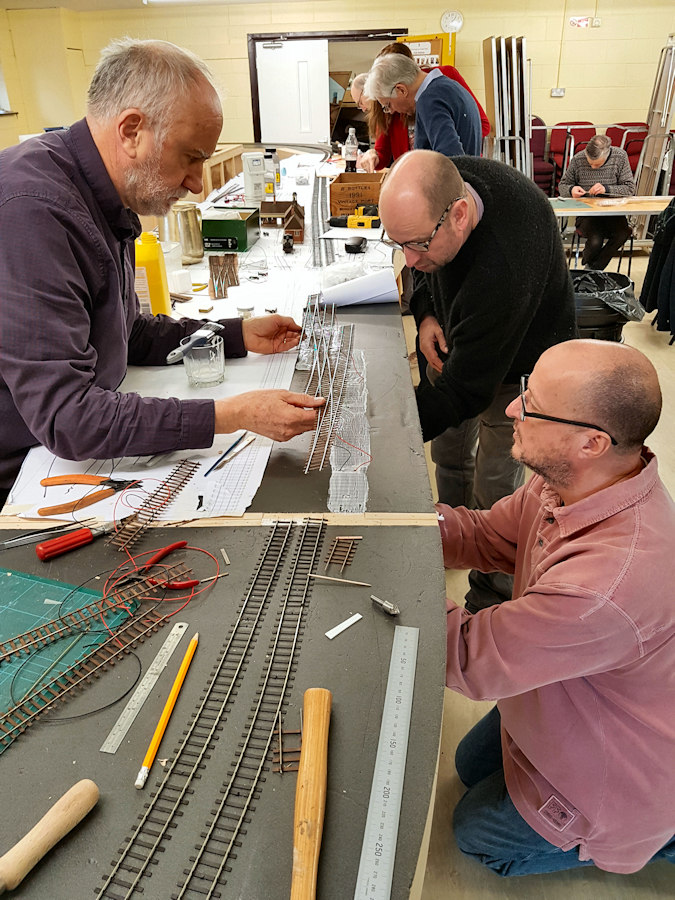 Latest Goings On February 2018:
Video & Photos by Anthony Mead

A short video clip, showing the first trains in action on the temporary laid double track for RISEX 2018, filmed at the Modelling Saturday on the 10th February.
A couple of photos of the whole layout setup, as it can be seen it only just fits length ways in the Carrington Room.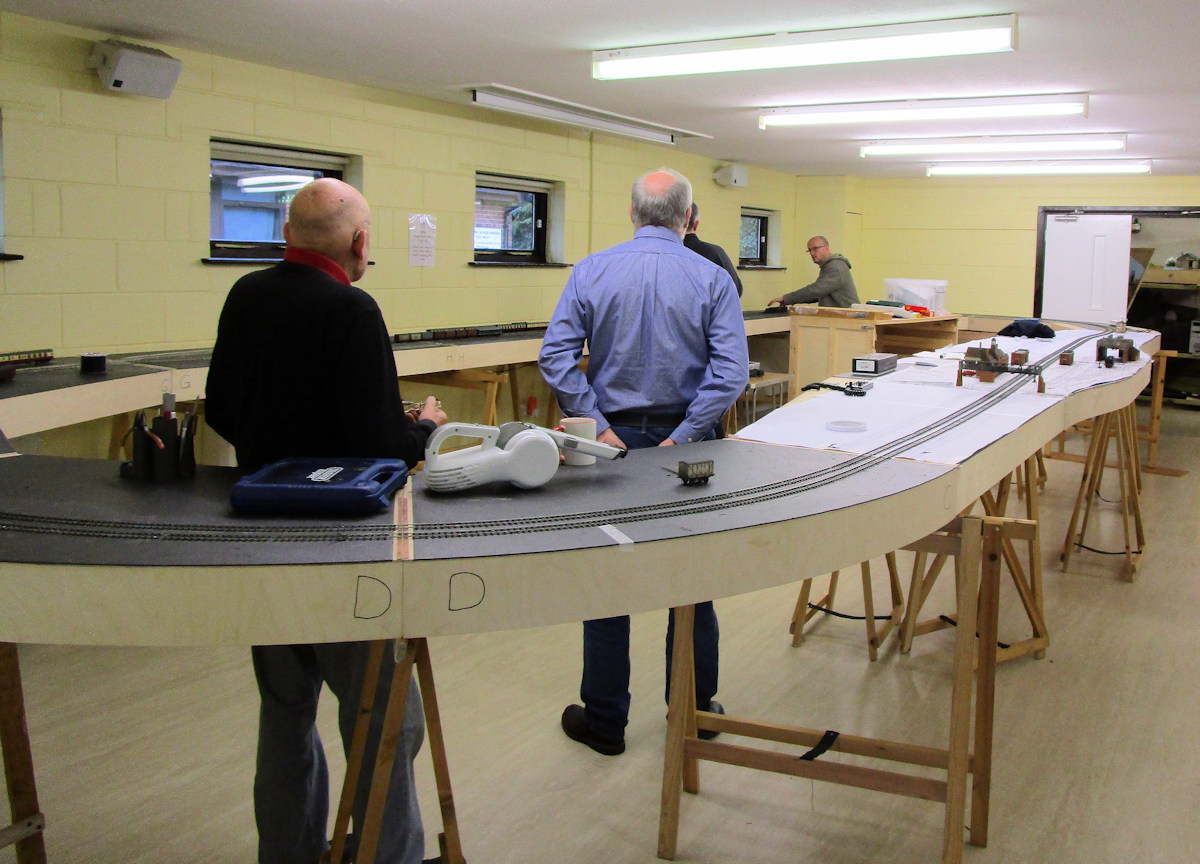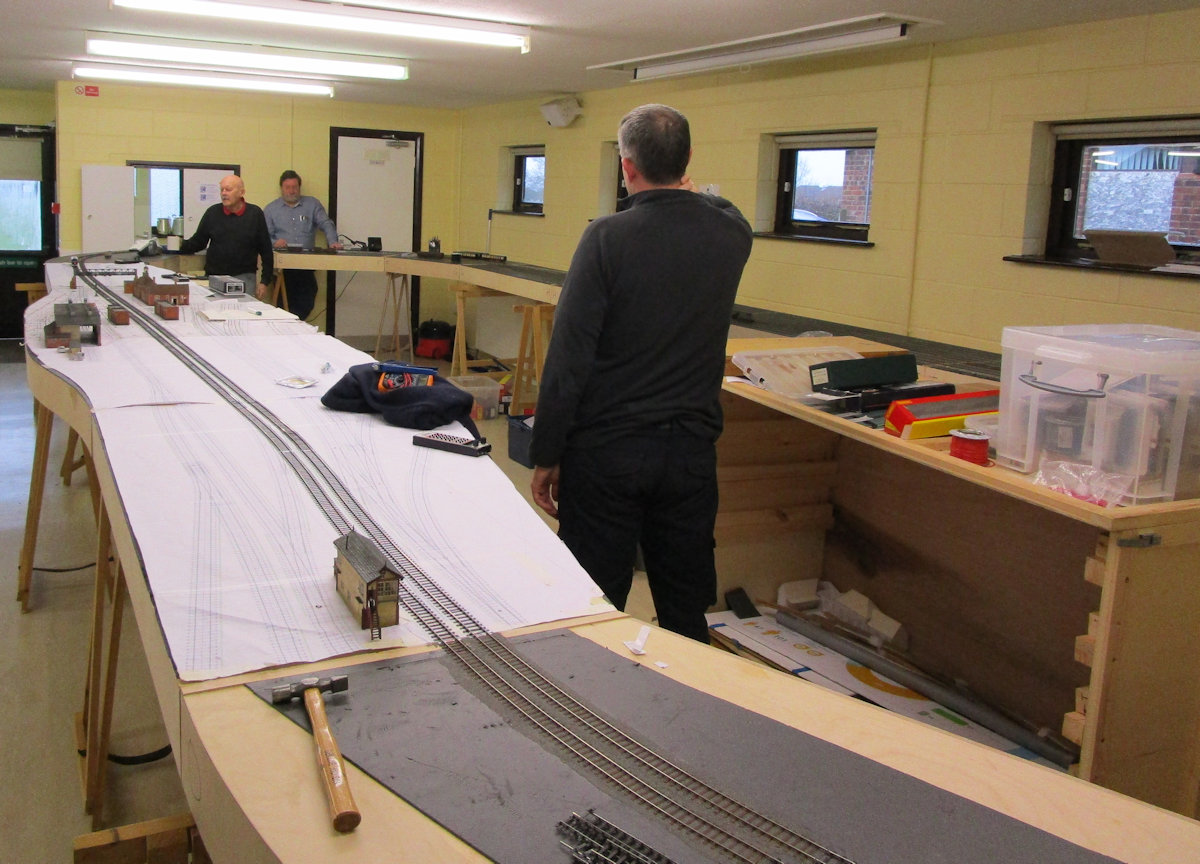 Progress to Date – 05 February 2018 by Steve Lovett

It's now some weeks since my last update at the AGM in November last year and considerable progress has been made on the Aylesbury Town layout.

You will recall that we saw RISEX 2018 as being the first opportunity to have the layout operational albeit with a temporary double loop. I am pleased to say that given the superb efforts of the project team we are almost there!
We have had our challenges though including:
The usual test run derailments; it's one thing building pointwork off the layout but once laid there are always inevitable snags
Strange anomalies within several lengths of P4 flexi-track where we discovered discrete elements of EM gauge sleepers; how does that happen?
The odd DS64 not wanting to work
The never to be missed electrical short
Thankfully whilst irritating these are now sorted (famous last words) and did not detract from our successes where we have seen considerable progress on:

The final electrical wiring of non-scenic boards including testing and commissioning
The station building where having used 3D software and printing the model is nearing completion
The first attempts at the modelled signals which has helped to define the methods of construction to be used
Fettling the scenic pointwork in readiness for it being laid
Laying of the first scenic trackwork with ballast
Laying of the temporary flexi-track for RISEX
In fact it was a really pleasant change to finish last Friday (2 February) with a chat and a brew, as opposed to our more usual struggling with a short/gauging/woodworking issue.

This coming Modelling Saturday (10 February) will give us a full day to rehearse how we're going to build/operate/teardown at RISEX on 17 February; we envisage 5 phases: build, test, trial, operate, teardown.

There is also great anticipation of the hope to have the inaugural formal full loop run at around 11:00, so cameras / videos at the ready. There won't be a dry eye in the clubroom so hankies at the ready.

Of course there some pre-RISEX challenges including working out a sequence for displaying available rolling stock (station stops/one train at the front/trains passing at the front etc) as well the inevitable repairs/modifications to carry out on the day but we are now used to such challenges.

Looking beyond RISEX our efforts will be concentrated on firstly 'mothballing' the non-scenic boards before starting on the scenic section of the layout where there is considerable tracklaying to be done (with all the associated electrical stuff), platforms to be built, buildings to be finalised and positioned, platforms built, scenery laid and the considerable amount of rolling stock to be built. Enough to keep us going for a wee while......

As ever the opportunity is there for you to get involved and share with us your knowledge and expertise so don't hesitate; this is after all a club layout.

Latest Goings On January 2018:
Photo by Anthony Mead

Work being undertaken on the Quainton end curved section, which links the scenic section to the fiddle yard during one of our Club nights in January. The race is on to have two complete circuits working for our Risex 2018 exhibition on the 17th February.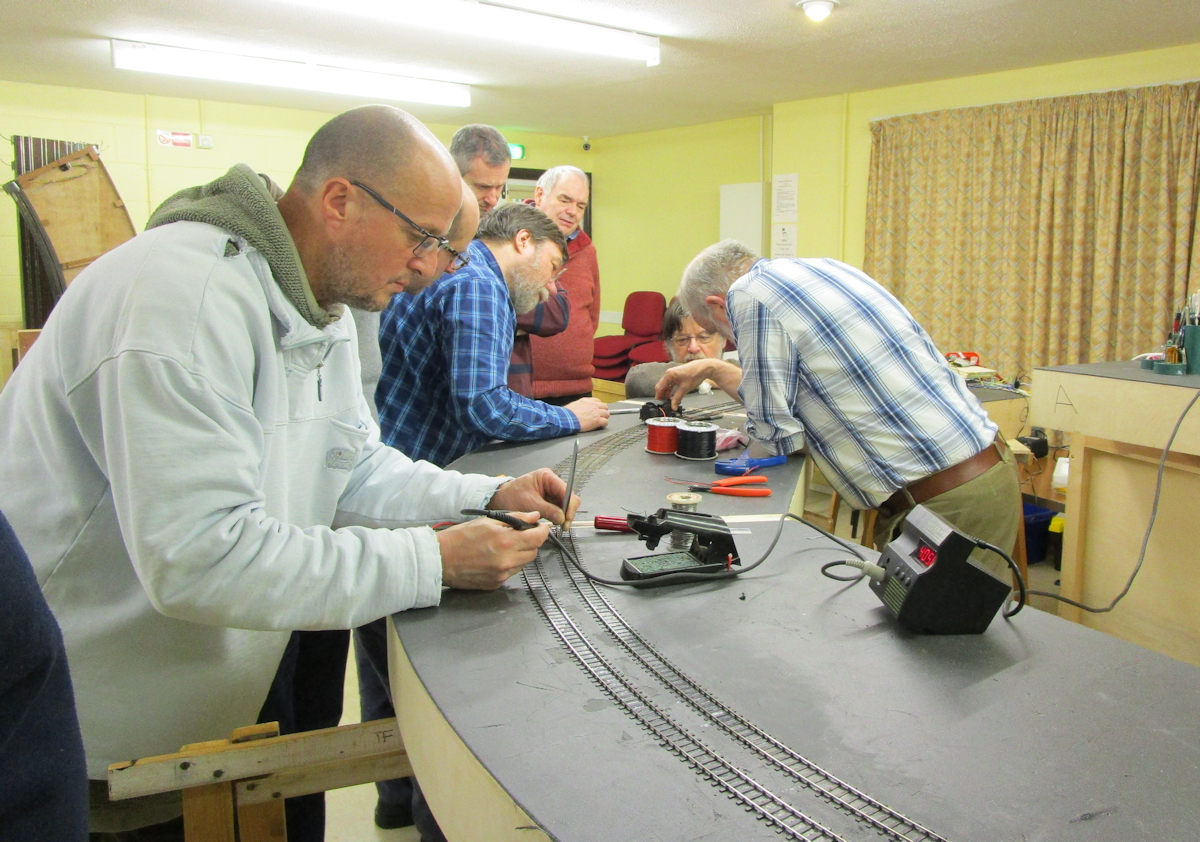 Steve, David, Paul, Chris, Mark, Mick and Tim checking the track work.
Latest Goings On November 2017:
Photo by Anthony Mead

Track testing work being checked on the fiddle yard boards at one of our Club nights in November.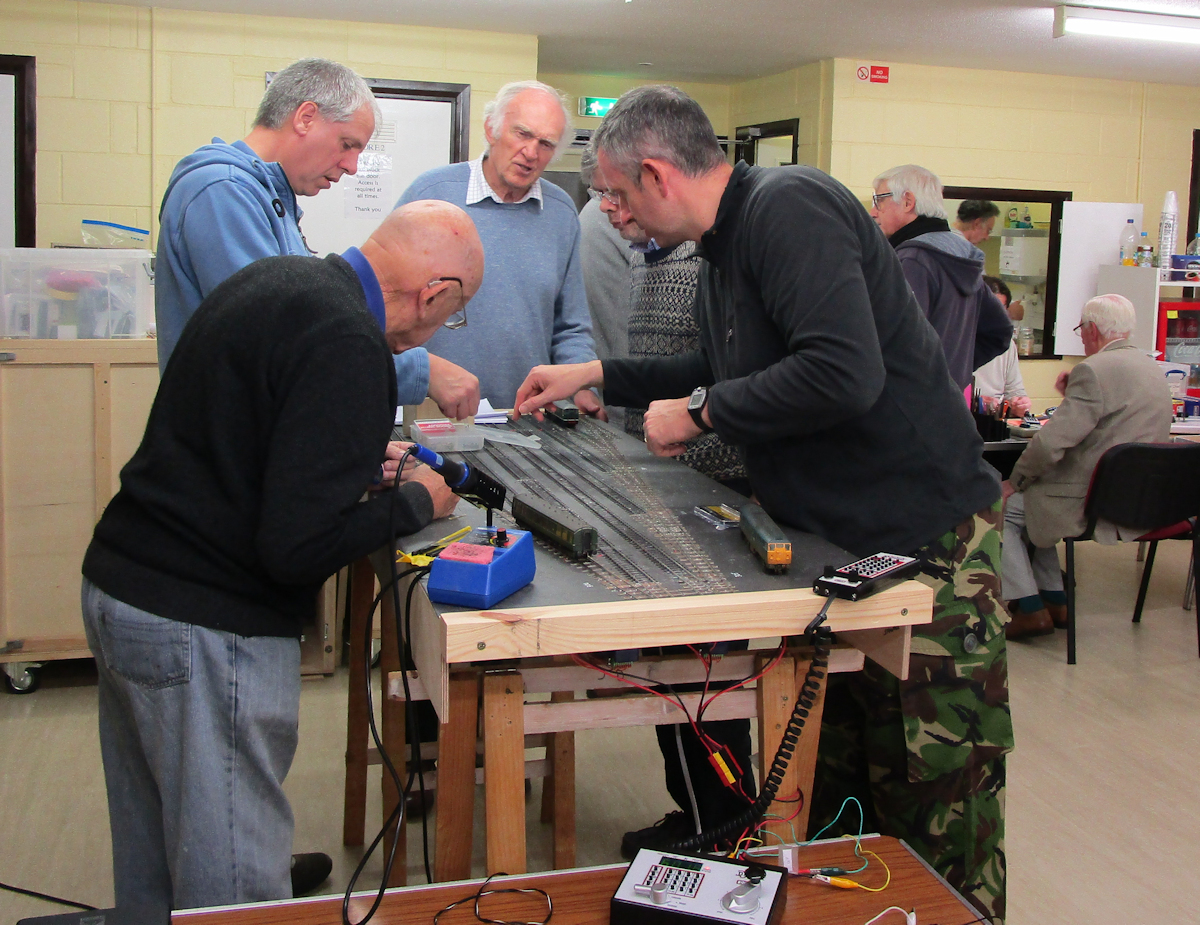 Kevin, Steve, Neil, Peter and Chris checking the track work.
Progress to Date – 10th November 2017 by Steve Lovett

In early June 2017 a 'stock taking exercise' of the Aylesbury Town project was undertaken which sought to figure out what the next steps were to be and what needed to be done following the loss of our friend and colleague Phil Baxendale.
It was apparent that we were starting with a layout that had:
The basic baseboards constructed with suitable storage boxes built
Tracklaying on the fiddle yard substantially completed
Many of the points required for the scenic boards had been built at a workshop held in November 2016
It was considered sensible to complete tracklaying and the full electrical installation, testing and commissioning on the non-scenic fiddleyard boards before commencing on the scenic section. This decision was made recognising the space available within the clubroom, the need to complete and mothball sections of the layout and the numbers of members available at any working session. The task has taken longer than we initially envisaged although is now concluding.
That said in August 2017 the layout saw its first test locomotive running on two of the fiddle yard boards. Since then there has been considerable progress with operational testing and commissioning on many fiddleyard boards, making lineside buildings and early progress on signal construction.
This achievement is the culmination of many months of hard work and the recent progress made on the non-scenic baseboards includes:
Baseboards - laying of remaining underlay on all boards
Trackwork fettling, cleaning, testing and commissioning
Electrical installation, testing and commissioning (including DCC components, cobalt point motors and numerous power feeds
However whilst such success is welcomed there is still much to do.

Short Horizon (December 2017 - February 2018)

Our immediate priority is to work towards our aspiration to have a part - operational layout at RISEX in February 2018 albeit only a double track circuit - for this to happen the layout will need to be fully supported with suitable trestles, trial running beforehand with sufficient DCC equipment available.

Medium Horizon (February 2018 to August 2019)

Baseboards
Design, fabricate and erect a supporting leg (trestle) solution
Fit remaining ironmongery
Complete storage unit carcasses
Non Scenic Boards
Fully commission and mothball as many of the non-scenic boards as practicable (Track & Electrics)
The main scenic boards have not been forgotten though with points substantially complete and plain line construction eagerly anticipated (even if it does mean that we have to thread thousands of miniature chairs!).

Scenic Boards
Trackwork – Commence build and testing
Electrical - Installation, testing and commissioning
Signalling – Construction of all signals
Scenery – Completion of lineside buildings; substantially progress lineside scenery
Longer Horizon (May 2020)
September 2019 - an aspiration to have a 'work in progress' part operational layout at Scaleforum
May 2020 – RAILEX - Our first formal
Lessons learned

There's no such thing as a simple straightforward task.
Never underestimate the frustration when trying to identify and resolve an electrical short – follow Mick's wise words "TEST AS YOUGO!"
Open Saturday July 2017:
Photos by Anthony Mead

Work being undertaken on the fiddle yard boards at our Open Saturday on the 8th July.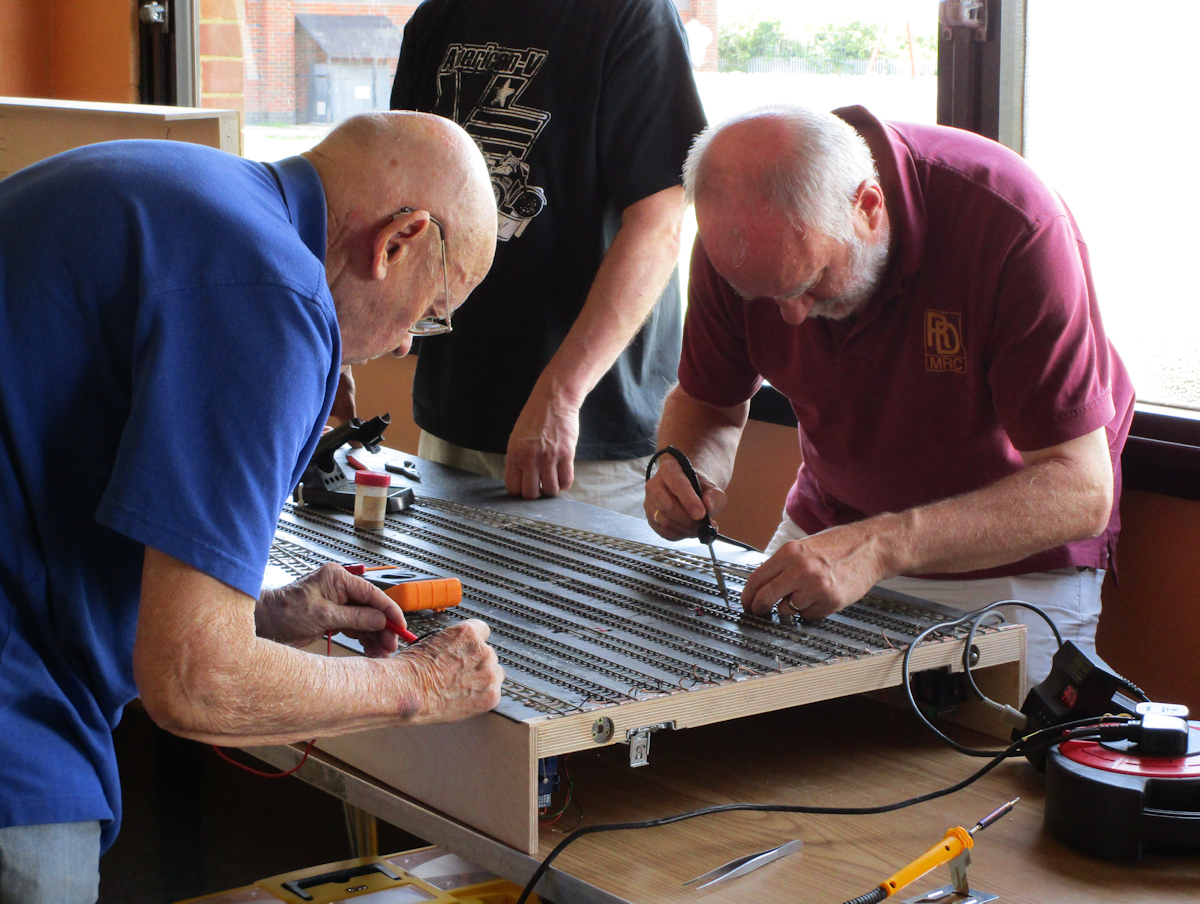 Kevin and Tim wiring the fiddle yard.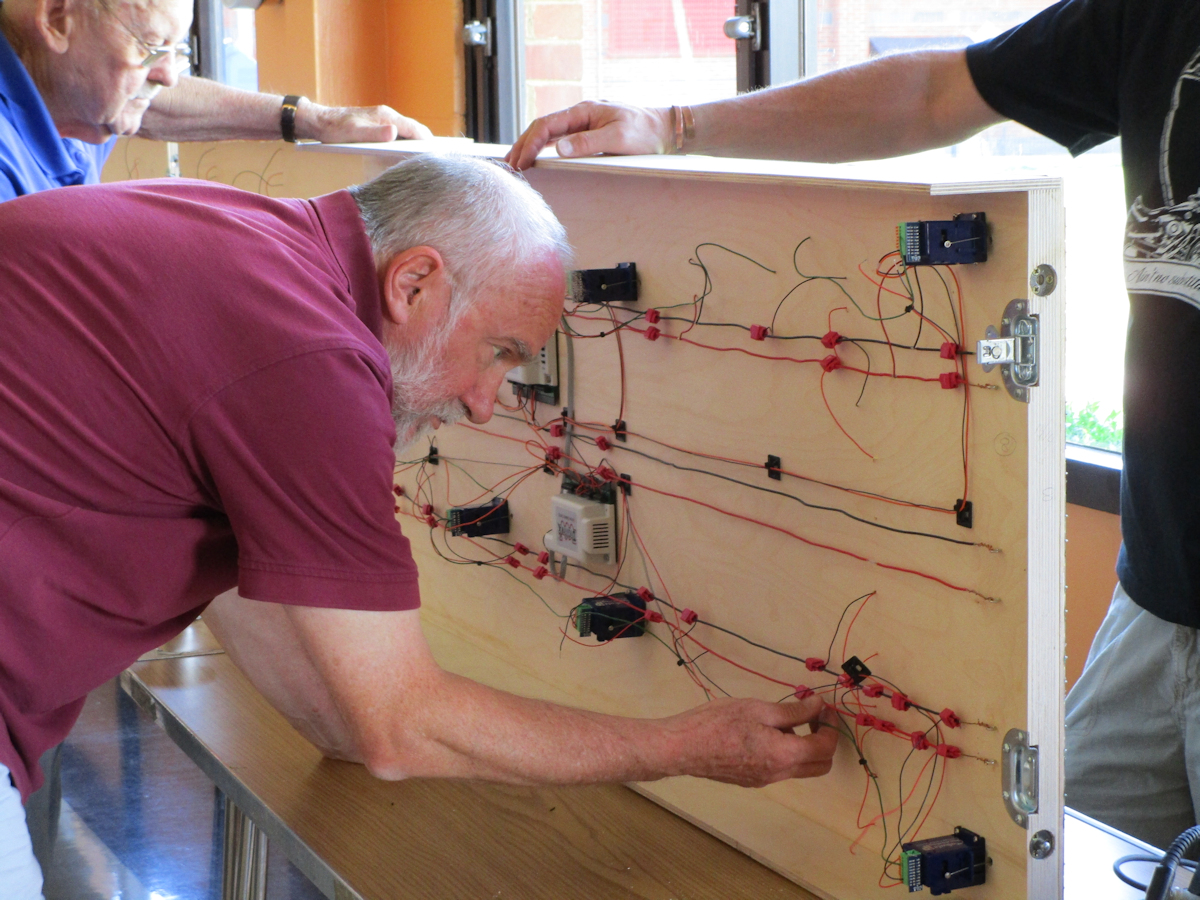 Tim checking a suitcase connector.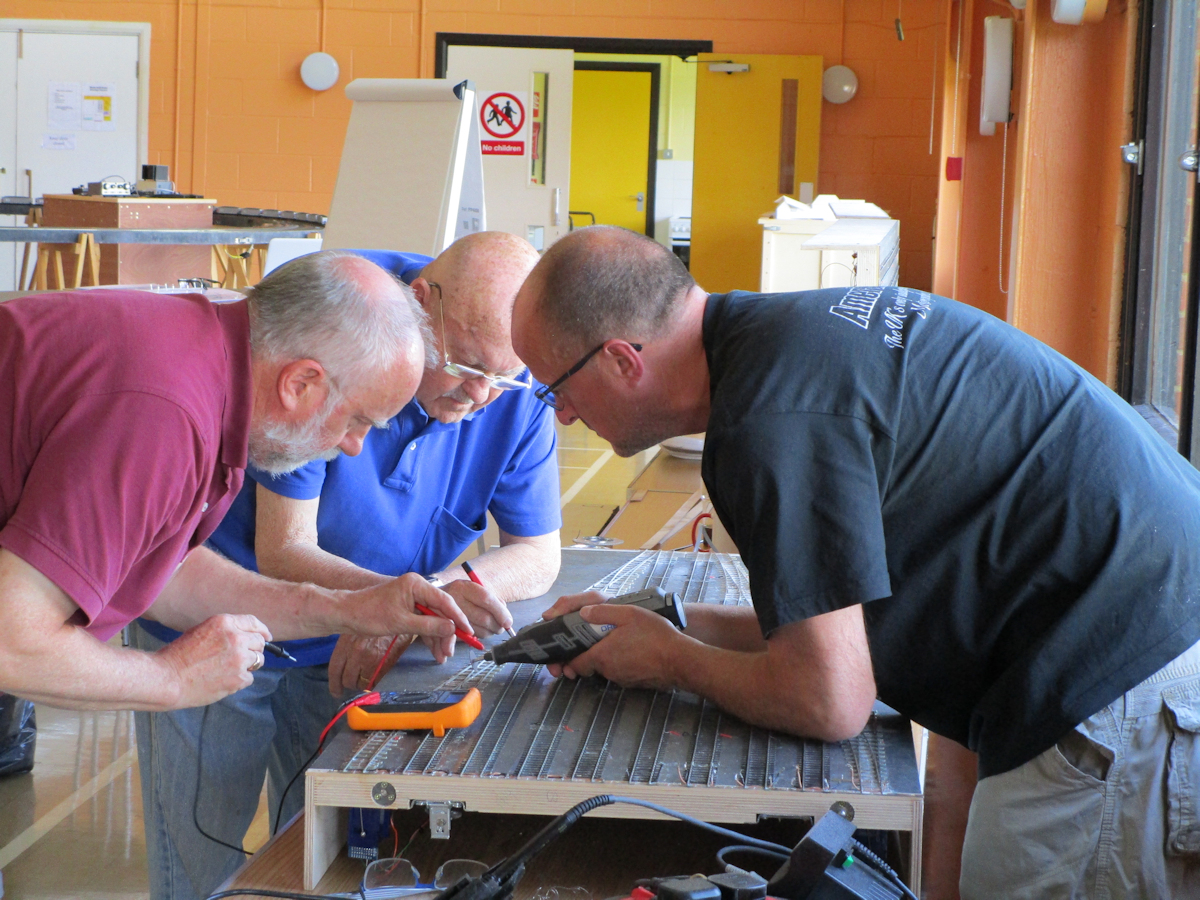 Tim, Kevin and Steve checking for shorts.
Latest Goings On July 2016:
Photos by David Lane

On the 22nd July, all the completed baseboards where set up in the main room in the Community Centre. The photos were taken on David's phone, and with the light streaming through the windows have not come out too well, but give you some idea of scale, there are two ten coach trains on the layout and as can be seen these are lost. The trestles are just temporary, as the board storage boxes and legs will support the layout. David also keeps a thread on RMWeb,about the layout.