---
Latest Goings On January 2018:
Photo by Anthony Mead

Work being undertaken on the Quainton end curved section, which links the scenic section to the fiddle yard during one of our Club nights in January. The race is on to have two complete circuits working for our Risex 2018 exhibition on the 17th February.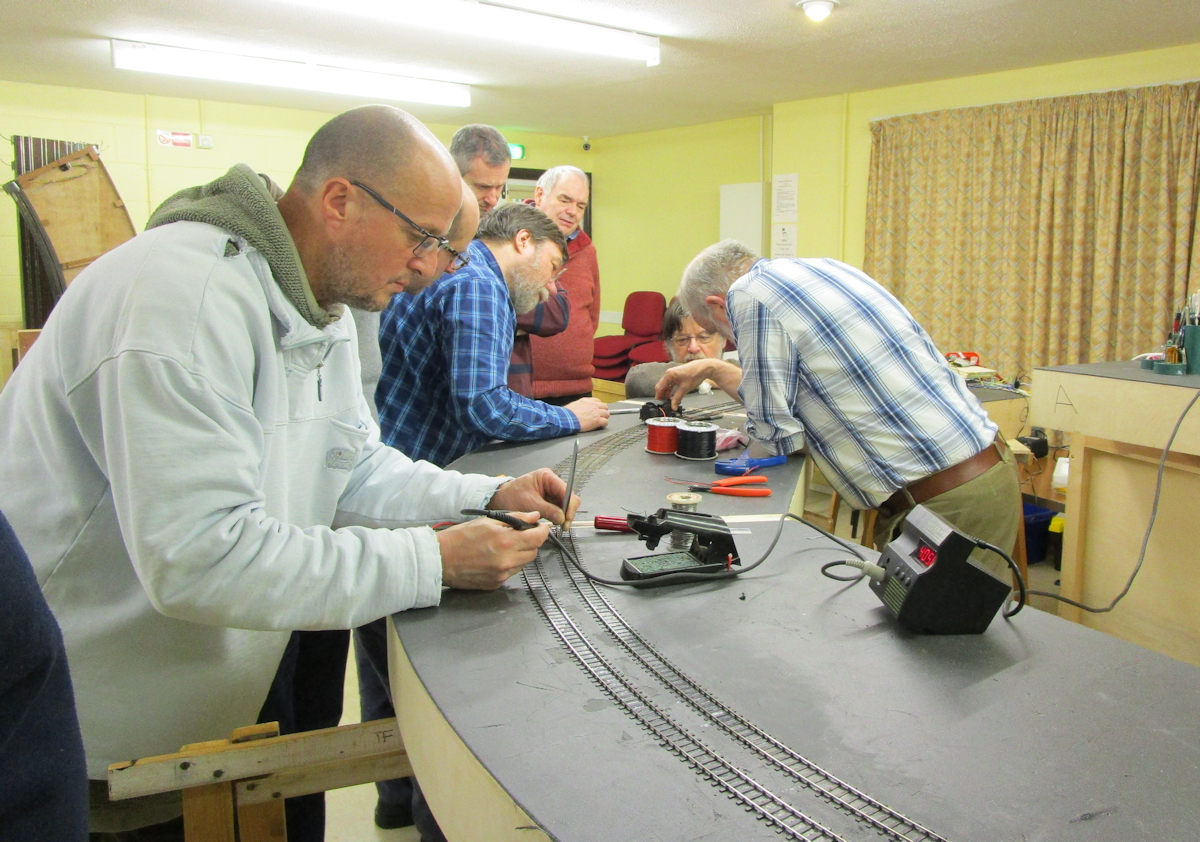 Steve, David, Paul, Chris, Mark, Mick and Tim checking the track work.
Latest Goings On November 2017:
Photo by Anthony Mead

Track testing work being checked on the fiddle yard boards at one of our Club nights in November.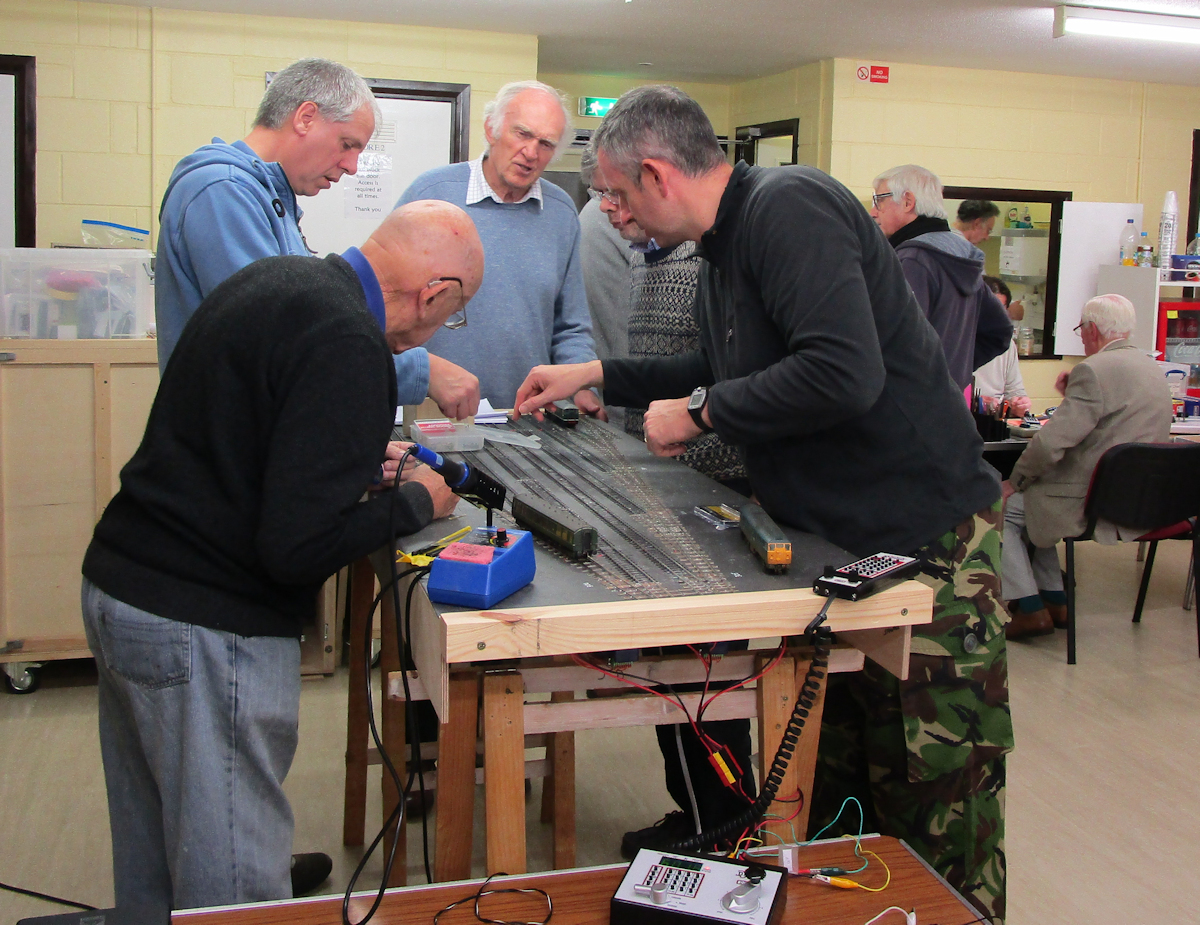 Kevin, Steve, Neil, Peter and Chris checking the track work.
Progress to Date – 10th November 2017

In early June 2017 a 'stock taking exercise' of the Aylesbury Town project was undertaken which sought to figure out what the next steps were to be and what needed to be done following the loss of our friend and colleague Phil Baxendale.
It was apparent that we were starting with a layout that had:
The basic baseboards constructed with suitable storage boxes built
Tracklaying on the fiddle yard substantially completed
Many of the points required for the scenic boards had been built at a workshop held in November 2016
It was considered sensible to complete tracklaying and the full electrical installation, testing and commissioning on the non-scenic fiddleyard boards before commencing on the scenic section. This decision was made recognising the space available within the clubroom, the need to complete and mothball sections of the layout and the numbers of members available at any working session. The task has taken longer than we initially envisaged although is now concluding.
That said in August 2017 the layout saw its first test locomotive running on two of the fiddle yard boards. Since then there has been considerable progress with operational testing and commissioning on many fiddleyard boards, making lineside buildings and early progress on signal construction.
This achievement is the culmination of many months of hard work and the recent progress made on the non-scenic baseboards includes:
Baseboards - laying of remaining underlay on all boards
Trackwork fettling, cleaning, testing and commissioning
Electrical installation, testing and commissioning (including DCC components, cobalt point motors and numerous power feeds
However whilst such success is welcomed there is still much to do.

Short Horizon (December 2017 - February 2018)

Our immediate priority is to work towards our aspiration to have a part - operational layout at RISEX in February 2018 albeit only a double track circuit - for this to happen the layout will need to be fully supported with suitable trestles, trial running beforehand with sufficient DCC equipment available.

Medium Horizon (February 2018 to August 2019)

Baseboards
Design, fabricate and erect a supporting leg (trestle) solution
Fit remaining ironmongery
Complete storage unit carcasses
Non Scenic Boards
Fully commission and mothball as many of the non-scenic boards as practicable (Track & Electrics)
The main scenic boards have not been forgotten though with points substantially complete and plain line construction eagerly anticipated (even if it does mean that we have to thread thousands of miniature chairs!).

Scenic Boards
Trackwork – Commence build and testing
Electrical - Installation, testing and commissioning
Signalling – Construction of all signals
Scenery – Completion of lineside buildings; substantially progress lineside scenery
Longer Horizon (May 2020)
September 2019 - an aspiration to have a 'work in progress' part operational layout at Scaleforum
May 2020 – RAILEX - Our first formal
Lessons learned

There's no such thing as a simple straightforward task.
Never underestimate the frustration when trying to identify and resolve an electrical short – follow Mick's wise words "TEST AS YOUGO!"
Open Saturday July 2017:
Photos by Anthony Mead

Work being undertaken on the fiddle yard boards at our Open Saturday on the 8th July.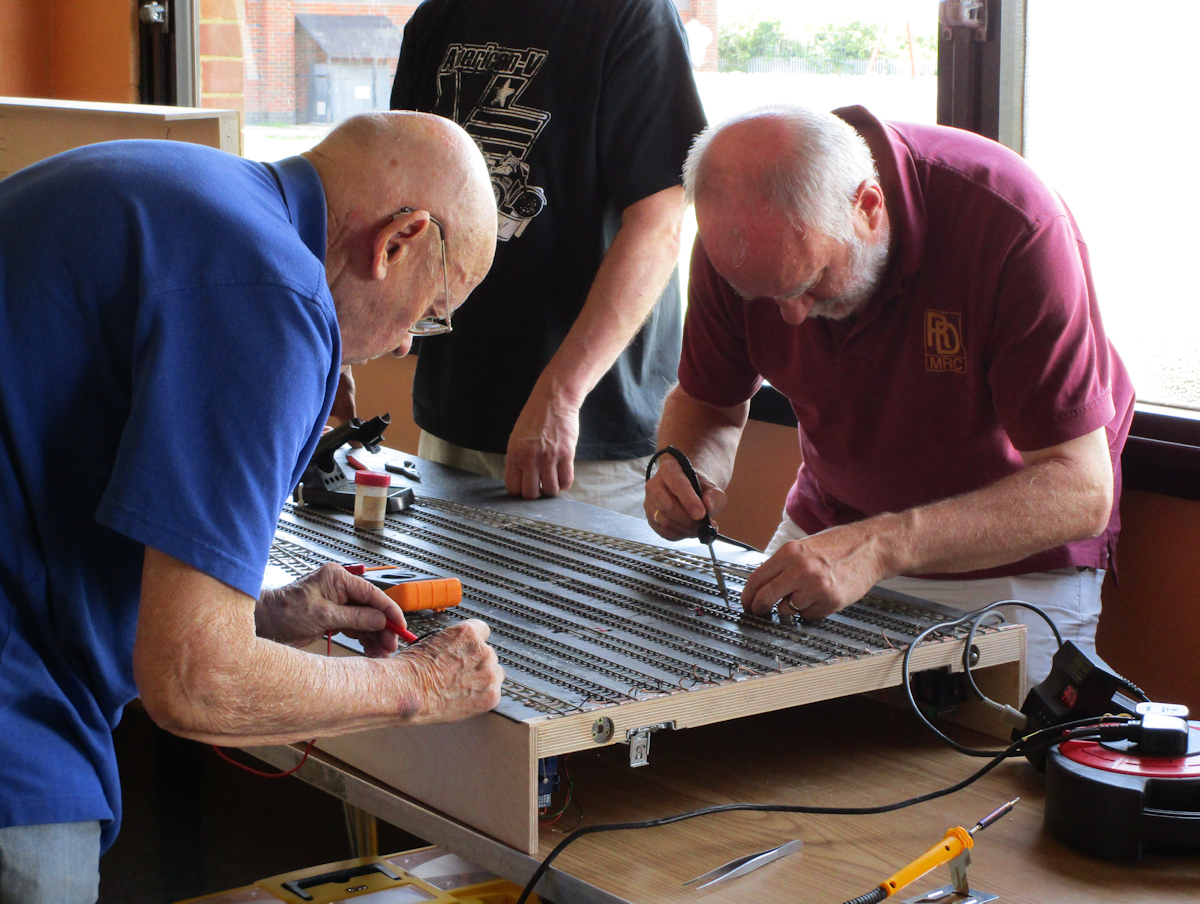 Kevin and Tim wiring the fiddle yard.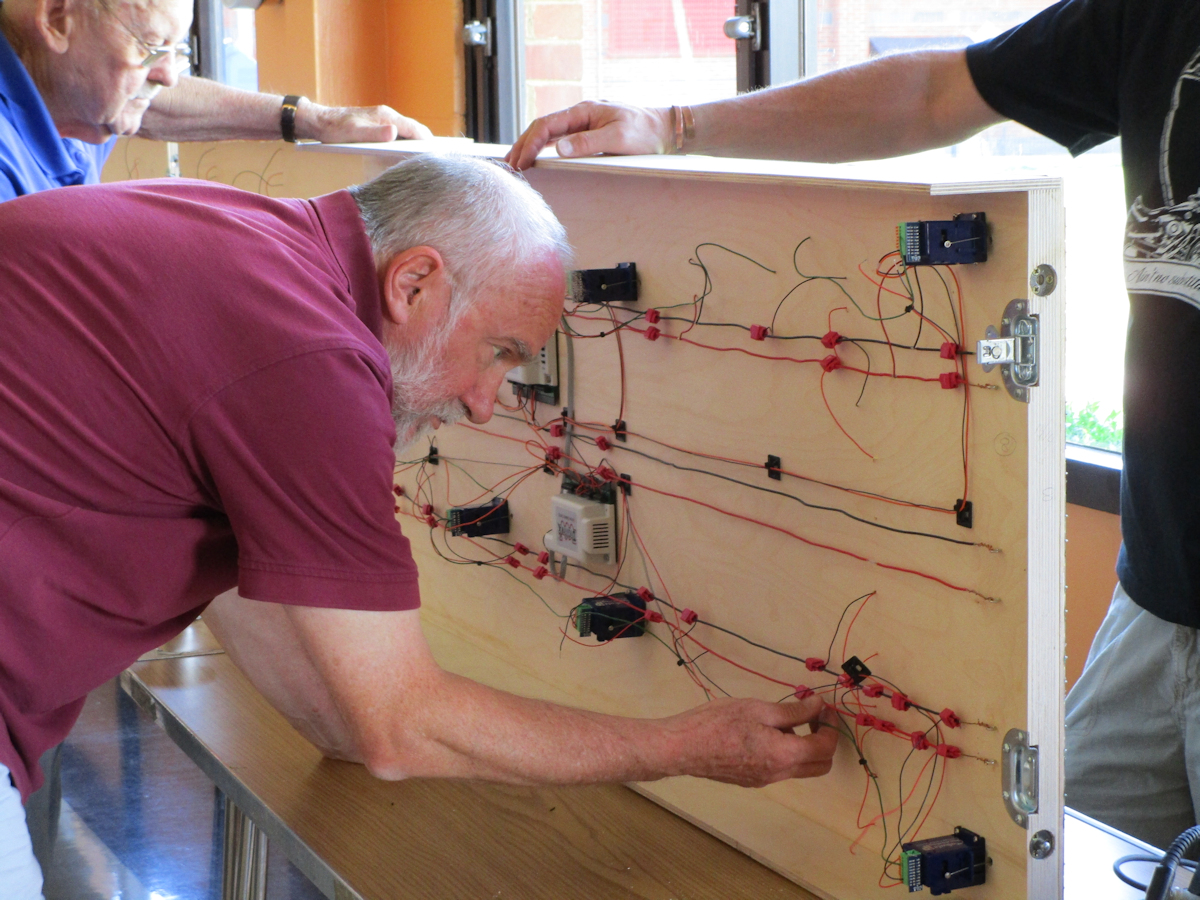 Tim checking a suitcase connector.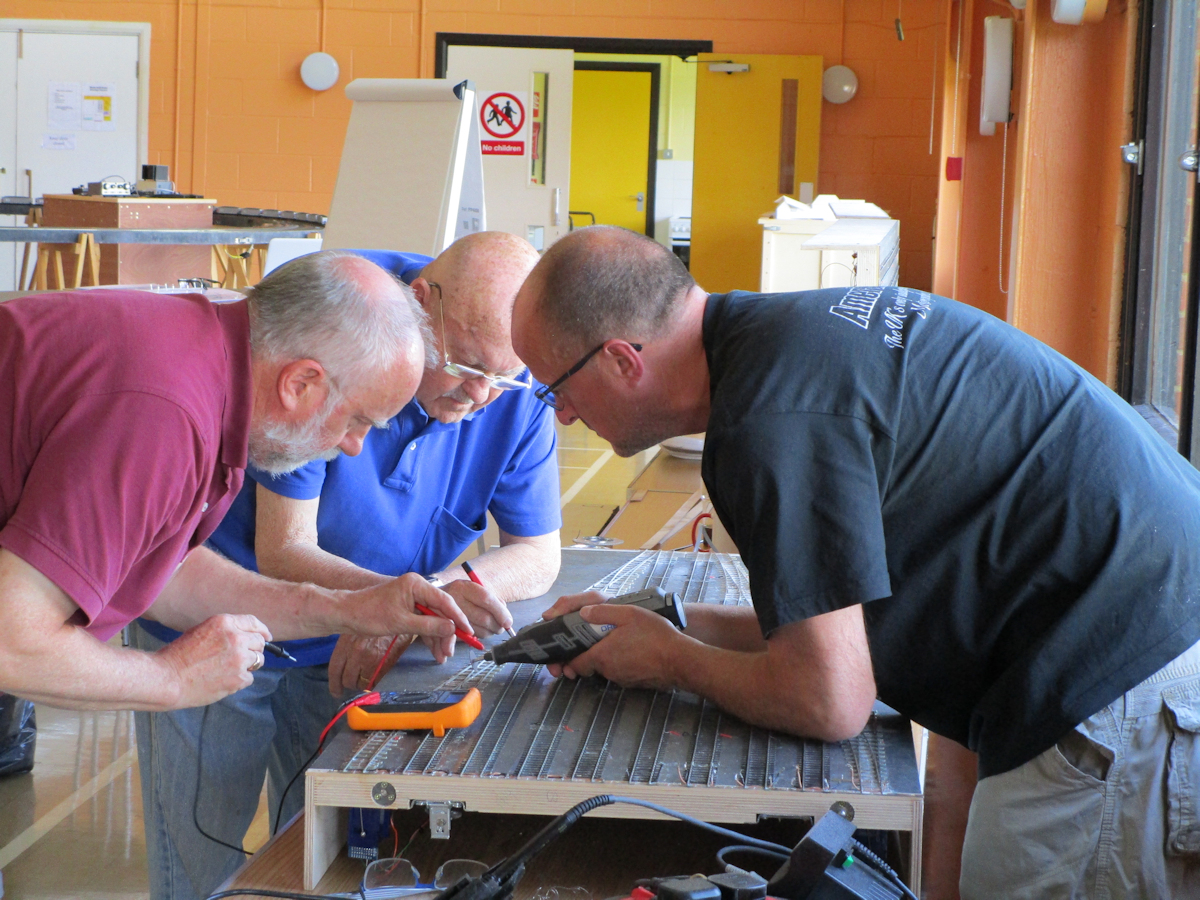 Tim, Kevin and Steve checking for shorts.
Latest Goings On July 2016:
Photos by David Lane

On the 22nd July, all the completed baseboards where set up in the main room in the Community Centre. The photos were taken on David's phone, and with the light streaming through the windows have not come out too well, but give you some idea of scale, there are two ten coach trains on the layout and as can be seen these are lost. The trestles are just temporary, as the board storage boxes and legs will support the layout. David also keeps a thread on RMWeb,about the layout.