---
Scenics:
Construction by David Lane
Photos by David Lane and Paul Wright

Water Crane:
This is a Great Northern example which replaced an earlier ballon tank just before the Second World War. David has used the Mike's Models water crane as a basis but has removed a double S bend in the horizontal arm to match the example at Aylesbury. David also made the various brackets and tie rods and replaced the over scale leather delivery pipe that seemed to be formed from a shoelace in the kit with rolled paper. The supply chain was grossly over scale so this was discarded and 0.3mm brass wire was twisted together and the flattened to produce a much finer looking chain.
Once happy, the water crane was airbrushed a mid light green colour with a dark grey delivery pipe and weathered down, for some reason this water crane had a single white band painted around the upright column, while the other water cranes had three rings.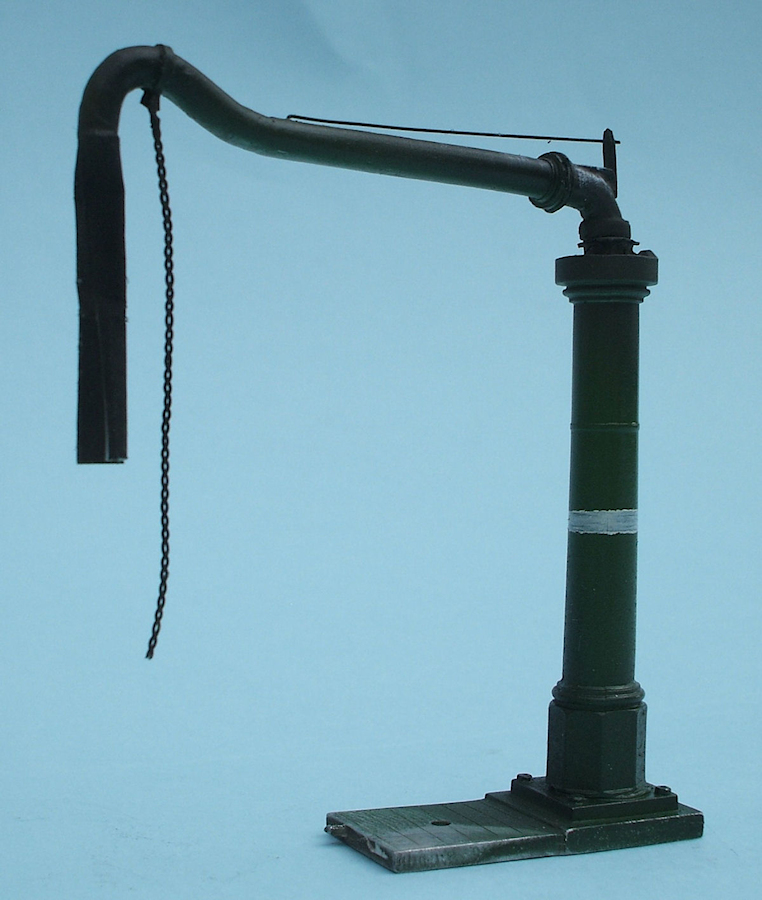 Water Crane, this will be used on the north end of the down platform, though the bottom third will be under the platform
Grounded Coach Body:
The grounded coach body was one Metropolitan coach 212. It possibly arrived in the 1920s. When the line through the back of the shed was extended in the mid 1950s the coach body was shifted around ten feet to one side to avoid the line and remained there until broken up in 1967. A door survives at Quainton. Luckily David possess photos of both sides of the coach and tge major dimensions so that he could create an accurate drawings to produce the model.
Instead of plastic (that he normally prefers to work with) the coach body is laser cut from several layers of paper or thin card to build up the various panels and beading. To protect and give a base for painting, the card/paper was sealed with shellac. Each side of the coach was laminated from four layers, made up from a side, window frames, droplights and beading.
Painting consisted of airbrushing cream over the sides and ends, with the four doors still in use on one side painted gulf red (red oxide), (previous to 1950, the coach was painted olive green to the waist level and cream above). One dry weathering was applied following the photos to hand.