Wheeltapper Competition 2012
---
The Wheeltapper is broken down in to many Categories:

1. Steam Locomotives UK
2. Steam Locomotives non UK
3. Diesel/Electric Locomotives UK
4. Diesel/Electric Locomotives Non UK
5. Passenger/Non-Passenger Coaching Stock UK
6. Passenger/Non-Passenger Coaching Stock Non UK
7. Freight and Engineers Stock UK
8. Freight and Engineers Stock Non UK
9. Road Vehicles, Boats, People, Animals etc THE ROBBIE ROBINSON AWARD
10. Scenic Models: Buildings, Trees, Signals etc THE JACK KINE TROPHY
11. Dioramas & Figurines
12. Okehampton 7mm Wagon Project, THE DEREK TURNER TROPHY
13. CHAIRMAN'S CUP

The Wheeltapper Trophy will be awarded to the best model out of all the above classes.


This years Wheeltapper Competition will take place on Friday the 30th of March. When invited guest Barry Norman will came along to Judge the models on show and then to come up with the overall winner.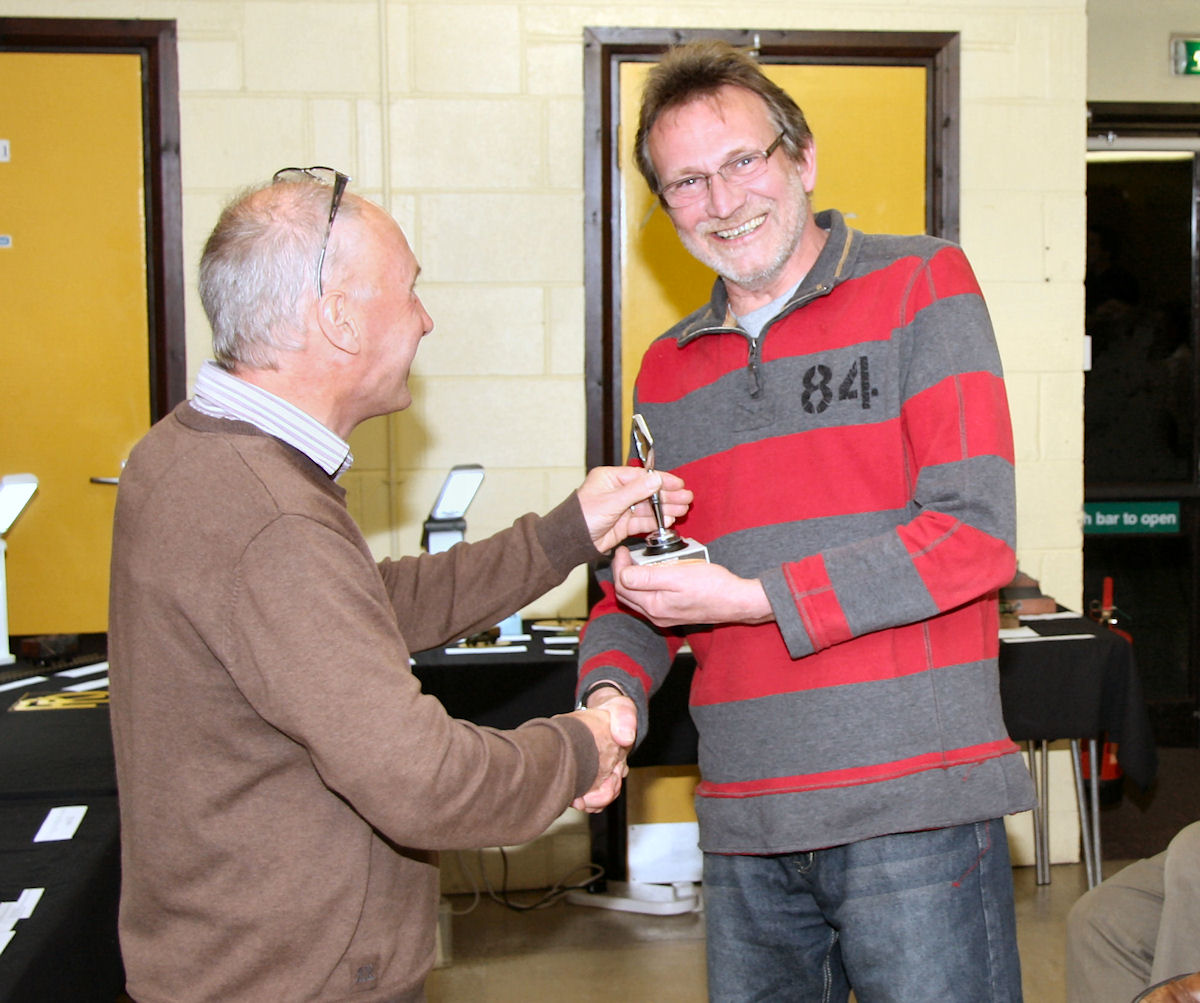 Phil Baxendale (right) receiving the Wheeltapper Trophy from Barry Norman.

LNER A4 Locomotive Falcon

1947 period - as photographed on the Settle to Carlisle line during 1947. This is built from a from a 4mm Finney Kit to P4 gauge, this is fitted with an Buhler motor and Ultrascale gearbox and wheels, the chassis is fully compensted. This has been then been painted in to LNER garter blue and weathered.
Photographs, by Paul Wright unless stated otherwise
Below are a selection of models that were entered by other club members for the competition.
| | | | |
| --- | --- | --- | --- |
| Okehampton 7mm Wagon Project/Derek Turner Trophy | The Robbie Robinson Award | The Jack Kine Trophy | Chairman's Cup |