Wheeltapper Competition 2006
---
The Wheeltapper is broken down in to many Categories:

1. Steam locos UK
2. Steam locos non UK
3. Diesel/electric locos UK
4. Diesel/electric locos non UK
5. Coaching and non-passenger stock UK
6. Coaching and non-passenger stock non UK
7. Freight and engineers stock UK
8. Freight and engineers stock non UK
9. Road vehicles, boats, people, animals etc THE ROBBIE ROBINSON AWARD
10. Scenic models: buildings, trees, signals etc THE JACK KINE TROPHY
The Wheeltapper Trophy will be awarded to the best model out of all the above classes.



The Wheeltapper Competition this year was held on Friday the 27th of January. When Gordon and Maggie Gravett came along to Judge the models on show and then to come up with the overall winner.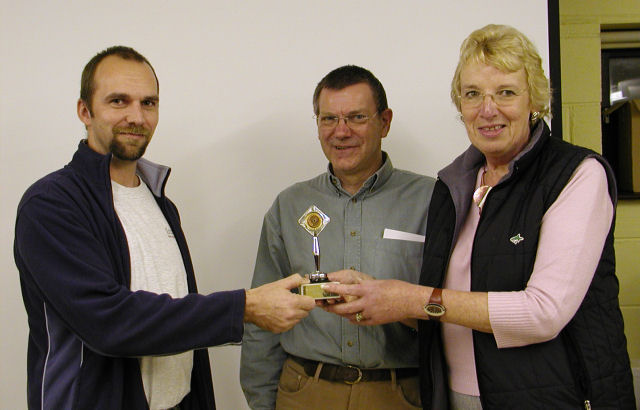 Richard Turner(Left) receiving the Wheeltapper Trophy from Gordon and Maggie Gravett.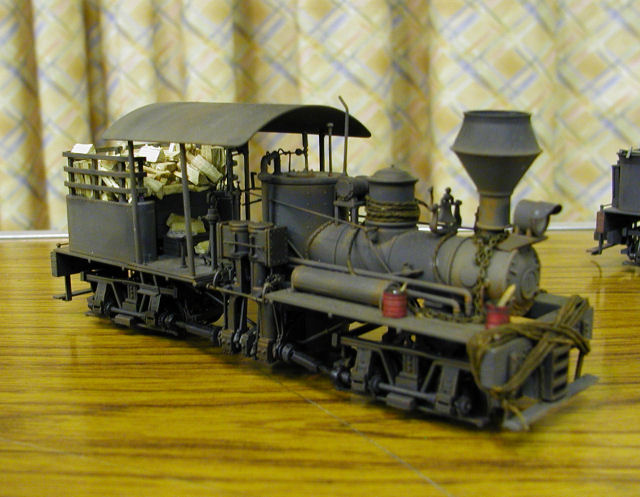 Richard's winning model a 1:48 scale 16 Tonne Vertical Boiler Shay.
Bachmann model Shay stripped and remodelled as seen. The cab was discarded and an open style operating platform was created using brass tube and sheet. Other added details include brake pump, tank and piping, timber rack, control gears, smoke stack, ropes and grease tubs. Heavy weathering is applied by airbrush, washes and drybrush. Fully fitted with DCC and sound.

Photographs, by Anthony Mead
Below are a seletion of models that were entered by other club members for the competition.