Wheeltapper Competition 2019
---
The Wheeltapper is broken down in to many Categories:

1. Steam Locomotives
2. Diesel/Electric Locomotives
3. Passenger/Non-Passenger Coaching Stock
4. Freight and Engineers Stock
5. Road Vehicles, Boats, People, Animals etc THE ROBBIE ROBINSON AWARD
6. Scenic Models: Buildings, Trees, Signals etc THE JACK KINE TROPHY
7. Dioramas & Figurines
8. Okehampton 7mm Wagon Project, THE DEREK TURNER TROPHY
9. Aylesbury Town 4mm Model, THE ROBIN LANE MEMORIAL TROPHY
10. CHAIRMAN'S CUP

The Wheeltapper Trophy will be awarded to the best model out of the classes 1 to 4 and 8 to 9.


Wheeltapper 2019 Competition took place on Friday the 26th of April. When invited guest judge and speaker Kevin Wilson who built the layout Bucks Hill,came along to Judge the models on show and then to come up with the overall winner.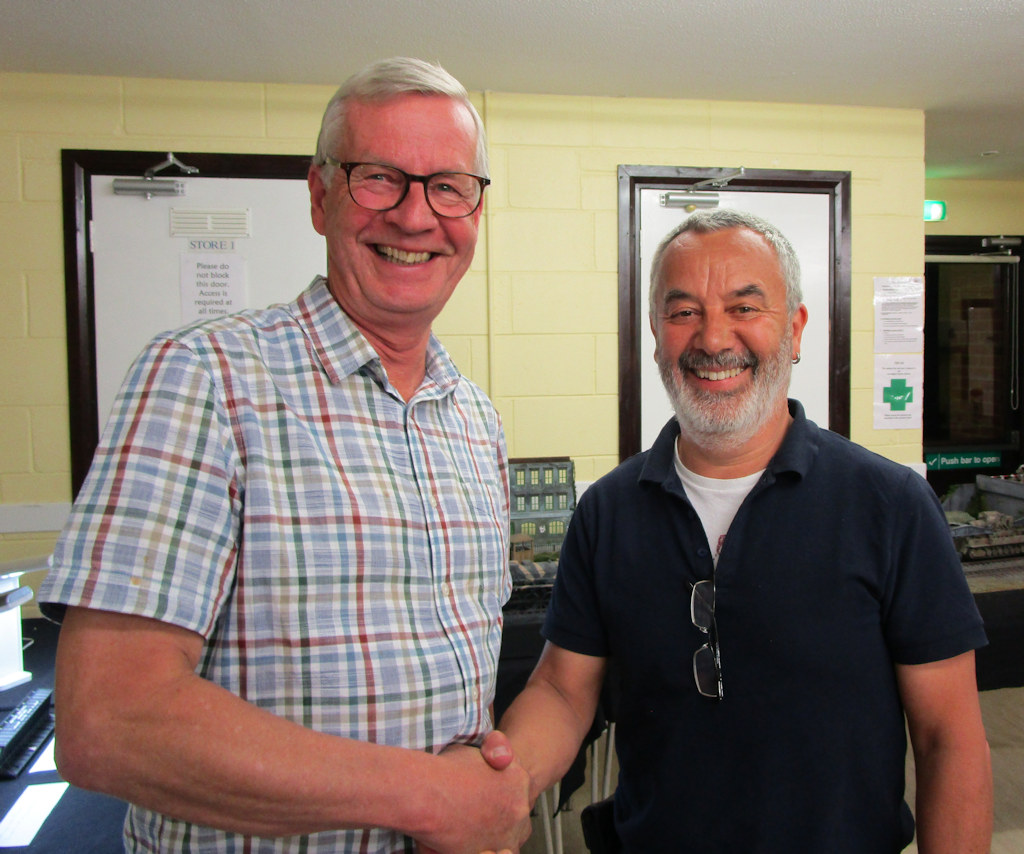 James Atiken (right) receiving the Wheeltapper Trophy from Kevin Wilson.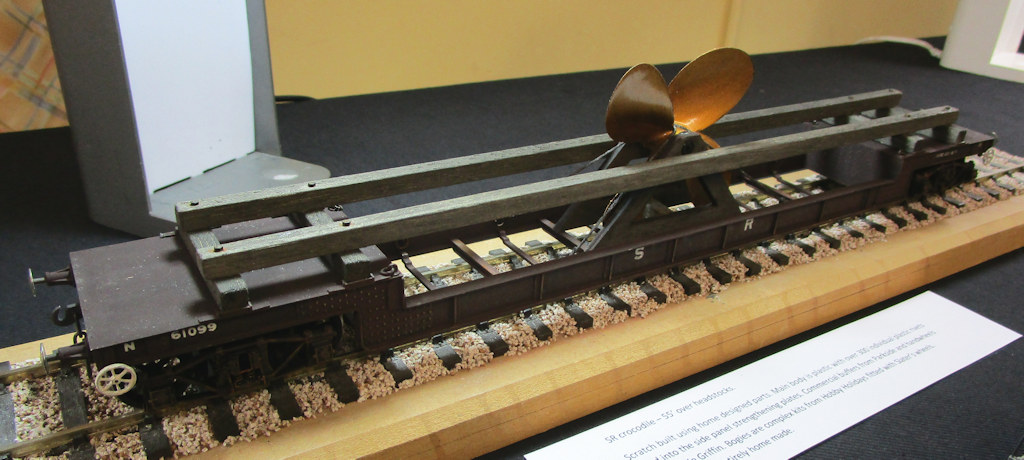 SR Crocodile - 55' Over Headstock

Scratch built using home made design parts. Main body is plastic with over 300 individual plastic rivets fitted into the side panel strengthening plates. Commercial buffer from Parkside and handwheels from Laurie Griffin. Bogies are complex kits from Hobby Holidays fitted with Slater's wheels. Couplings are entirely home made. Also Winner in Freight and Engineers Stock.

Photographs, by Anthony Mead unless stated otherwise
Below are a selection of models that were entered by other Club members for the competition.
| | | | |
| --- | --- | --- | --- |
| Chairman's Cup | The Robbie Robinson Award | The Jack Kine Trophy | The Robin Lane Memorial Trophy |