Dduallt
by David and Robert Waller
---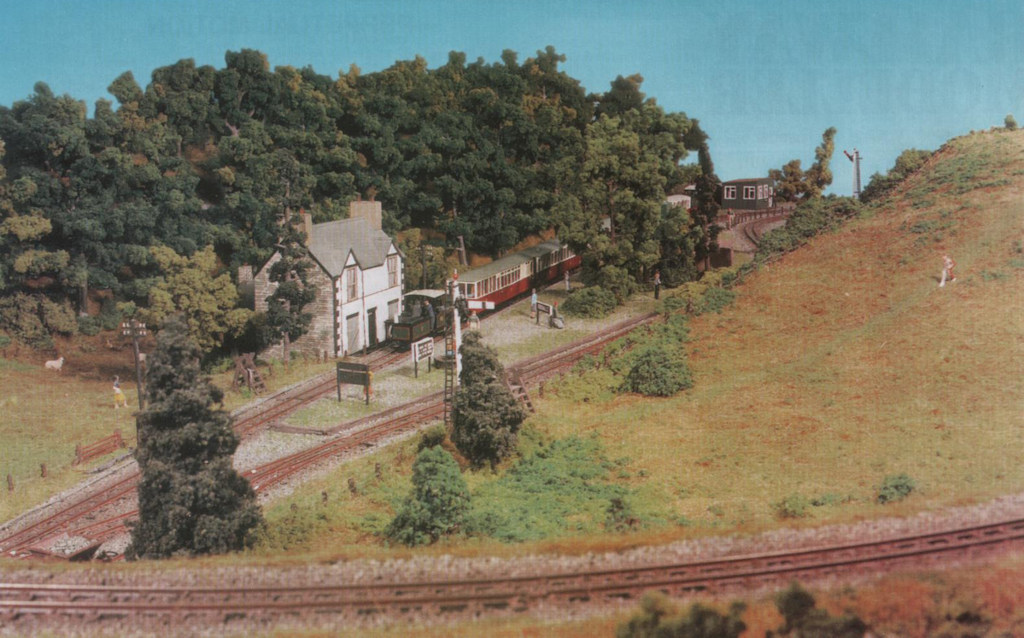 General view over the station from above the deviation.

Every narrow gauge modeller will happily real off (should you be foolhardy enough to ask) a list of reasons why they've chosen the smaller prototype; reason of size, space and charm will probably top the list more often than not. Having modelled the modern Festiniog Railway for the past seven years I've found the primary attraction and satisfaction lies in the real opportunity to model the entire locomotive and rolling stock fleet of a prototype railway.
Modelling a real location has always involved much research, on the ground as well as through written and pictorial sources. Tackling the FR's unique Dduallt spiral, setting a nominal prototype date of 1988/9, our research has necessarily been extended to the railway's entire locomotive and rolling stock fleet; and allowed us to spend many hours wandering around the Festiniog's Boston Lodge Works on the pretext of modelling research.
Modelling a real location is immensely challenging; especially when it's a tourist railway as well known by the general public as by us self-appointed Festiniog experts (not forgetting the many volunteer "Deviations" who built the line in the first place and who appear out of the woodwork at nearly every exhibition). Inevitably, compromise will raise its ugly head everywhere, and at every stage, on any layout; although more significantly when tackling a real location.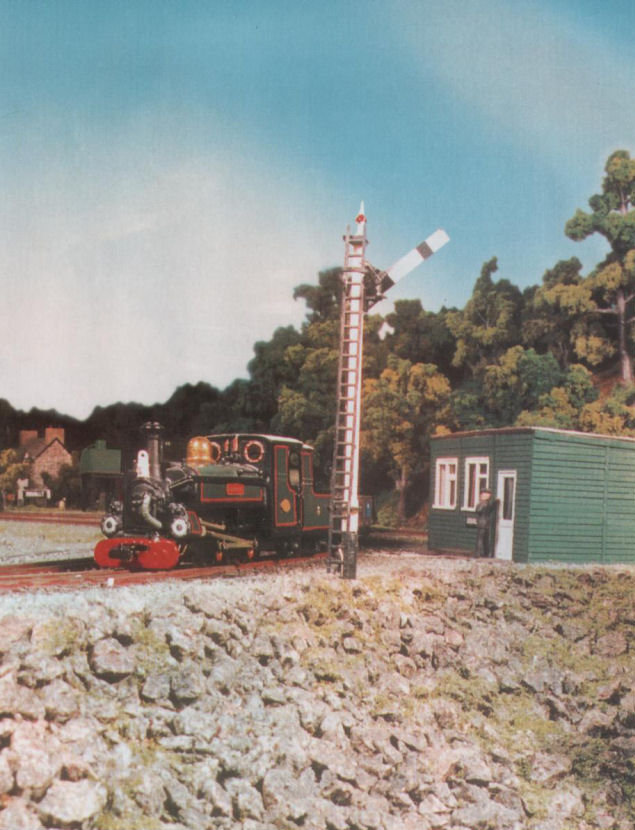 Blanch begins the stiff climb round the spiral with an engineer's train to Blaenau.

Golden rules
Our experience with Dduallt suggests that there are two golden rules for prototypical modelling.
The first is that you can never do enough research. We researched (see Railway Modeller November 1994) over a period of three years, paying numerous visits to the station; wandering everywhere, taking pictures from every conceivable angle, looking through every book we could find - and seemingly freeze-framing every video tape ever shot. Well damn us if there weren't whole corners of the layout we could only but guess at when it came to the finer points of scenery on the layout!
The second rule is that if it looks right it is right. An age old modelling truism it may be but if you compared our model of Dduallt to scale maps and plans of the area you'll find it shrunk, squeezed and tweaked all over and yet to the eye it still looks a dead ringer for the real thing.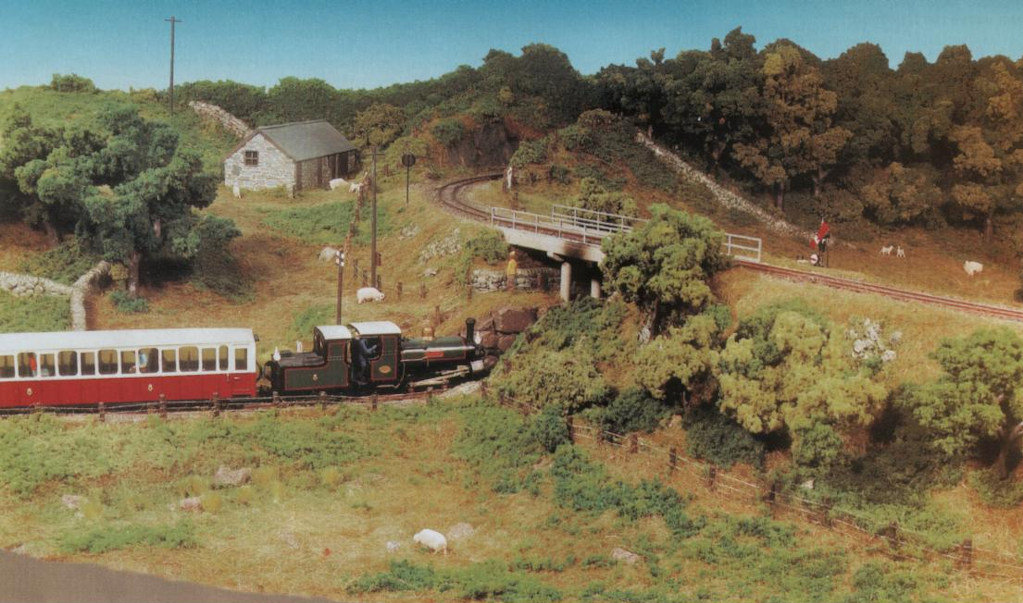 Blanch and an up train squeeze through the cutting into Dduallt station.

Careful construction
Many viewers at exhibitions express surprise at how well Dduallt operates, and comment on how they've never go on with 009 and failed to get it to operate smoothly. If there is any secret to smooth and prod-less operation our experience shows it's down to careful construction of both the layout and the stock. After all it's no use having a beautifully built locomotive body on a rotten old chassis, and so neither will terrific stock operate well on a shoddily built layout. The quality of construction of the trackbed on Dduallt was paramount to the finished layout's performance due to gradient on the spiral. We spent many hours evaluating the performance of our locomotives on a gradient test rig (2 meters of track on a length of 2" x 1" raised at on end - hardly high tech!) before committing to the final layout design. We established what loads and train formations we expected each locomotive to haul and, having arrived at an acceptable gradient ratio, designed the height of Rhoslyn Bridge and the track plan of the layout around this imperative. Therefore Rhoslyn Bridge is actually set in s slight dip to maximise the height of the bridge and length of climb around the spiral.
Of course there's no substitute for carefully laid trackwork and especially for ensuring the match of every baseboard joint. (As opposed to fashionable lightweight baseboard construction techniques we've built 'em big 'n bulky. Over-engineered they may be, but the board joints won't budge an inch in Summer or Winter - although you should try lifting the things!) We also took particular care to pack the supports of the incline to create a smooth gradient and suitably slacken the grade on curves. We've also found that it helps to switch the current on the points externally with relays and let the blades do the job they were designed for. Incidentally, we've no objection to carrying out surgery on the trackwork to make it suit the locomotive, and careful filing here and there can do wonders for a troublesome pony wheel or two. As far as we've concerned the layout designed to do a job, i.e. operate smoothly, and so its taken for granted that both layout and stock need to be optimized to each other.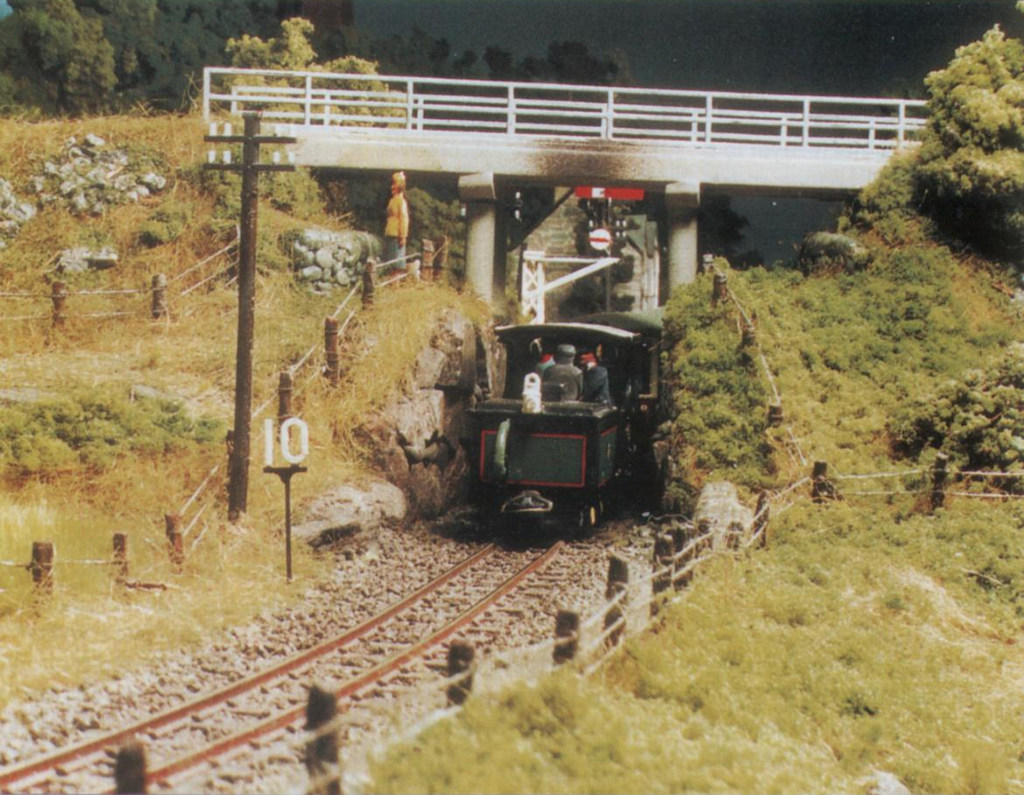 Linda glides its down train through the impossible tight FR cutting at the south of the station.
The deviation spiral crosses on the bridge above.

Next Page
Photographs courtesy of Railway Modeller